Farraday | Shades of Love
by Nikiforos Skoumas
– Columnist —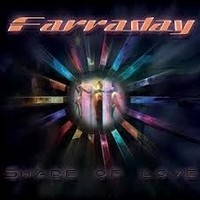 German AOR Label signs Greek-based melodic rock band. Déjà vu? Well, the renowned AOR Heaven seems to be keeping an attentive eye over the Greek rock industry having already signed such artists as Andy Rock and Wild Rose. This time they picked up Athenian melodic rock duo Farraday. The lineup features singer-guitarist-keyboardist Roy Davis and drummer Stathis Spiliotopoulos who also produces the album.
Clearly Farraday's strength lies in solid songwriting and rather old-school craftsmanship in building their brand of melodic rock. In fact, just about every song on Shades of Love could have dated as early as 1984. You can expect thick but not too flashy rhythm section, ever-present and totally –'80s keyboard harmonies on top of rocking guitar parts with imaginative solos. When it comes to the vocals, DaVis takes a rather reserves approach having wisely chosen to sing within his range which allows him to be expressive without too much effort.
Putting any skepticism aside, Farraday is an honest AOR album, well worth its money as it delivers songs and performances that could have been genre classics or radio-hits at the least. In particular the title track has such a sweet-sugary chorus which combined with its mid-tempo rhythm makes for the predictable yet indispensable AOR pleaser. "Breaking Down" represent the protestant side of Farraday which puts the message across without becoming too aggressive. From there onwards there is the dramatic-romantic "Tonight", the groovy-melodic "Out of Nowhere" and the ballad "There for You". There is of course "Rock you the old fashioned way" perhaps the album's heaviest moment, effectively communicating that Farraday are all about old-school melody and of course "Can't Wait on Love" clearly the album's best track on offer which is as as authentic AOR as it gets.
Overall, Shades of Love is a solid AOR debut that should satisfy just about any fan of '80s radio-friendly rock. Farraday combine fresh songwriting with some of the most lovable clichés in melodic rock in an album that wastes no time.
Genre: Melodic Rock, AOR
Line up:
Roy Da Vis – Vocals, Guitars and Keyboards
Stathis Spiliotopoulos – Drums
Tracklist:
1. One Way Ticket To Hollywood
2. Rock U (The Old Fashion Way)
3. Shade Of Love
4. Can't Get Enough
5. Breakin' Down
6. Tonight
7. Can't Wait On Love
8. Out Of Nowhere
9. There For You
10. When Passion Burns
Label: AOR Heaven
Hardrockhaven rating: 8/10