by Derric Miller
– Managing Editor —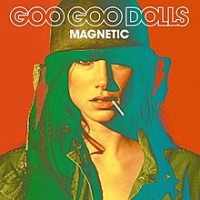 The morphing of a punk-laced Indy rock band to Corporate Rock mammoths is sometimes a sad, sell out tale … and sometimes it ends up giving the masses songs, to name a few, like "Black Balloon," "Name," "Slide" and "Iris," creations that slap Father Time in the maw and let him know even after John Reznik is a bag of bones … people will still sing the songs his voice and his bandmates made famous. Now the gents of Goo Goo Dolls are back again, with Magnetic, their tenth and uber-polished studio effort.
You know what you are going to get with Goo Goo Dolls, but it's comfortable and welcomed, like sleeping with an old flame you haven't "seen" for a decade. Just the bubbly, infectious opening to "Rebel Beat" puts a crooked smile on your face—one that says "yeah I expected it, but I'm still surprised." When the bridge hits, and you hear Reznik breathily singing "Alive is all I wanna feel, tonight … I need to be where you are," there goes your big dumb head, bopping around like you just don't care. And you shouldn't. It's good.
It's not a slam on the band in any way/shape/form, but Taylor Swift could have verily written "When the World Breaks Your Heart." Yes, it's about heartbreak, but it's the saccharine-y lyrics, the yearning pacing of the lyrical delivery, and the musicality of the composition that makes you think … everything new is old again. "When the world breaks your heart, I can put it back together. Write your name across the sky … I'm always with you." If you can somehow find the cajones to grab an acoustic guitar and sing this to the girl(s) of your dreams, guys, she'll go to your prom or a bris … wherever the hell you want to take her.
Starting a song with the chorus is a nifty way of pounding in the anthem before you even hit the verses—you know what's coming, and you can't wait to get there. They do just that on "Slow It Down." Now, it just seems Goo Goo Dolls are somewhat eternal adolescents, pining for a love that certainly cannot exist since … haven't they already written the song that would culminate in landing Ms. Perfect? But the rhyming is pre-kindergarten, "I still remember you; the dizzy dance with me and you." Now that's risky, rhyming "you" with "you." Goo …
Melancholy is always a term aligned with most Goo Goo Dolls music, but it's sort of a downer when the fizzy Robby Takac on "Bringing on the Light" uses his vocal front opportunity to sing what Reznik has been crooning over the course of the album already. "There's a place we used to go, it took the place of what we didn't know—it's like a MAGIC SHOW." O … K. Robby should be singing about booze and tattoos and throwing waffles at Westboro Baptist Church freakshows. Not this.
If you wanted "Iris," the closest you will get is "BulletProofAngel." If you like Elton John, you are also going to love this track. The wind flows in the background, there's keys, elements at work in the backdrop, and Reznik's sort of gritty yet smooth vocal honesty carrying the best track on Magnetic. Lyrically, they stop rhyming "goo" with "goo" and give you some insightful moment, like "She hears a secret choir that sings for me and you. You know I don't believe her but I say … I hear them too." There, poignant. Thanks.
"Last Hot Night in America" is one of those songs that make you feel sad summer is behind you, sad that this isn't a duet with Sheryl Crow, and mostly, sad you didn't hear this earlier. It's a perfect radio hit.
They end their magnetic reign with "Keep the Car Running," a song that feels like you've heard it a few times already on the album but who cares … at their worst, Goo Goo Dolls are merely "good."
Safe, glossy, danger-free, stickier than a second-grader's hands after eating blue cotton-candy at a county fair … Magnetic is at once great and bereft. To sum it up, everyone who hears the album ALREADY knew they could do this. Is there anything else they can, or want, to do?
Genre: Hard Rock
Tracklisting:
1. Rebel Beat
2. When the World Breaks Your Heart
3. Slow it Down
4. Caught in the Storm
5. Bringing On The Light
6. Come To Me
7. More of You
8. BulletProofAngel
9. Last Hot Night
10. Happiest of Days
11. Keep the Car Running
Label: Warner Bros. Records
Online: www.googoodolls.com
Hardrock Haven rating: 7.3/10