James LaBrie | Impermanent Resonance
by Justin Gaines
– Senior Columnist/News Editor —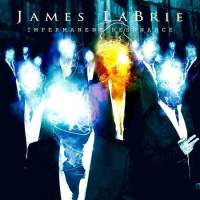 Three years after shocking a lot of fans with his 2010 release Static Impulse, Dream Theater vocalist James LaBrie is back with a new solo album. The album is titled Impermanent Resonance, and it's the singer's third proper solo album (depending on how you look at the two Mulmuzzler releases). LaBrie is once again joined by two contributors who have played a major role in how his solo career has progressed. The first is keyboardist Matt Guillory and the second is Darkane drummer Peter Wildoer, who once again delivers harsh, death metal style vocals.
If you're one of the fans who hated the more melodic death metal side of Static Impulse, you're not going to be any happier with Impermanent Resonance. This album is very much a continuation of that sound. For a lot of us, that sound was a real shot of energy, and one that made people look at LaBrie in a new light. Impermanent Resonance is still a progressive metal album, more so than anything else, but Wildoer's harsh vocals are front and center, so it does feel like it could be a Soilwork or Mercenary album at times.
James LaBrie has always been the underrated member of Dream Theater, so it's always good to see him on a project like this where both his voice and his considerable songwriting skills shine. On Impermanent Resonance, you get to hear his full range and the warmth and power of his voice, and he doesn't have to take a back seat to 12-minute instrumental solos. The music has a good degree of technicality (the drumming in particular stands out), but it is equally melodic and still quite aggressive. Think Dream Theater meets Soilwork.
If there's a downside here, it's probably in the fact that the album doesn't progress much from Static Impulse, but both albums are so infectious that you probably won't mind hearing more of the same. James LaBrie and company have delivered another near-perfect hybrid of melodic progressive metal and melodic death metal, and it's one that ought to satisfy more open-minded Dream Theater fans as well as fans of Soilwork, Scar Symmetry and the like. At this point, the upcoming Dream Theater album is going to have to be pretty spectacular to beat Impermanent Resonance.
Edition Notes: The CD release of Impermanent Resonance comes in a digipack and includes the bonus tracks "Unraveling" and "Why."
Genre: Progressive Metal, Melodic Death Metal
Band:
James LaBrie (v)
Ray Riendeau (b)
Matt Guillory (k) (v)
Peter Wildoer (d) (v)
Marco Sfogli (g)
Track Listing:
1. Agony
2. Undertow
3. Slight of Hand
4. Back on the Ground
5. I Got You
6. Holding On
7. Lost in the Fire
8. Letting Go
9. Destined to Burn
10. Say You're Still Mine
11. Amnesia
12. I Will Not Break
13. Unraveling
14. Why
Label: InsideOut Music
Website: www.jameslabrie.com
Hardrock Haven rating: 9.25/10