LIVE! | Carnival of Madness Tour
by Deb Rao
– Senior Columnist —
September 15, 20132 at The Joint in Las Vegas, NV. —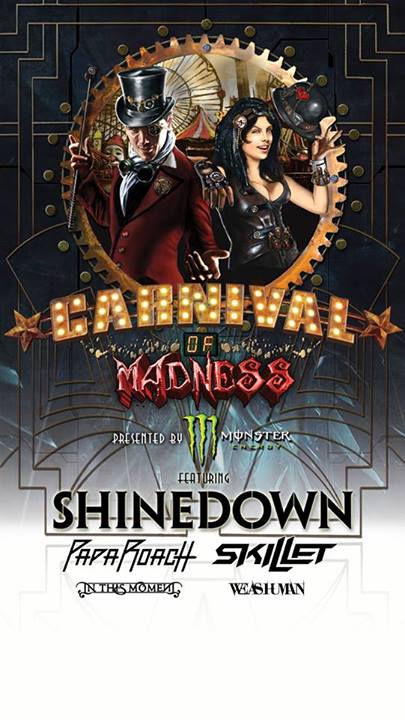 The Carnival Of Madness Tour rolled into Las Vegas at The Joint with a vengeance. As I pulled into the garage parking lot the drummer from Shinedown greeted patrons. The concert bill featured some of the top names in music today featuring We As Human, In This Moment, Skillet, Papa Roach, and Shinedown.
The concert began early at 4:00 P.M. opening with We As Human. This was my first time seeing the band and I was really impressed. We As Human have a hard driving infectious sound. Lead singer Justin Cordle really got the crowd all warmed up. Highlight of the set included "Bring To Life" and "Strike Back." We As Human were discovered by the lead singer of Skillet John Cooper. They have a fresh new sound and positive message. I look forward to hearing more from the band from Nashville in the future. Check out Hardrock Haven interview with Justin Cordle.
Next up at 4:30 P.M. was In This Moment. This was my third time seeing the band and I was really impressed by their stage setting. First of all one word describes Maria Brink's performance HOT! The stage setting was kind of Goth and featured naked statues and heads emerged in gravel with hands sticking out. There were skulls and massive fog. Maria took the stage and all eyes were on the golden Goddess. Dressed in a nurse outfit, and two dancing girls Maria took the audience by storm. Her voice was fierce. The singer went through many costume changes. Highlight of the set was "Adrenalize." The singer left the audience wanting more.
Next up Skillet gave one of their best performances. The band sounded really tight and has acquired many new fans since the last time I saw them at Rock On The Range. They have a new album out and performed new song "Sick Of It." The song really rocked. I particularly enjoyed the guitar performance by Korey Cooper. Jen Ledger is a powerhouse drummer. It was great to see all the girl power on this tour.
Papa Roach hit the stage at 8:00 P.M. for one of the evening's best performances. It was great to see them back in action. Jacoby Shaddix sounded really strong. You could tell he was happy to be back onstage. Papa Roach set list combined old and new songs. They performed new songs from their latest release The Connection including," Where Did The Angels Go", "Still Swingin", and "Leader Of The Broken Hearts". The band also performed their signature anthems including "Scars", and "Last Resort." Nothing can be compared to the energy of a Papa Roach show. Check out interview with Tobin at Hardrock Haven.
Set List:
Burn
Blood Brothers
Give Me Back My Life
Between Angels And Insects
Where Did The Angels Go
Forever
Leader Of The Broken Hearts
Scars
Still Swingin'
To Be Loved
Getting Away With Murder
Last Resort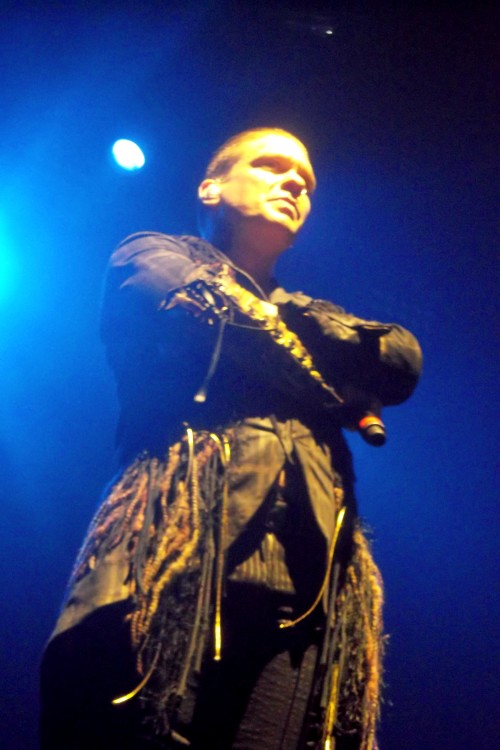 The pride of Florida, Shinedown hit the stage at 9:25 P.M. I have to mention, I first saw this band years ago at the Palladium in Worcester and I knew then they were going to be huge. Tonight the band came full circle with a brilliant performance. Shinedown's set flowed really well with all the hard hitting songs including "Enemies" and "Devour" plus the band also performed acoustically which showcased Brent Smith's golden voice. Shinedown hit the stage amidst a sea of pyro, carnival dancers, and a huge screen depicting images that surrounded each song.
Highlight of the set was the song "If You Only Knew." The stellar musicianship of the band shined. Another favorite was the pretty song "Amaryllis." During the set Brent Smith gave the most amazing speech. Brent commented that music wasn't a genre. Music will always be there for you. Rock was not dead. Music is a way of life. He also stated that they say if you can make it in Vegas, you can make it anywhere. That statement was so true. Vegas is a really hard audience to please. By the roar of the response of the audience, Shinedown's surely show captured Vegas. I think the most heartwarming moment of the night was seeing this family standing next to me singing "If You Only Knew" with their son on the shoulders of his Mother singing every word. Shinedown really sets a great example for their fans. Actually the message from all the bands here tonight was so positive.
It was so exhilarating to hear Shinedown play two acoustic songs including "45" and "Simple Man." They ended their set with the anthem "Bully." Words can't describe how Shinedown's set soared. The stage set bedazzled and it really fit into all the Vegas glitz. It was great to see the band perform in Las Vegas usually they play in Reno.
This year's Carnival Of Madness show was a complete success. Every band brought their A game and gave 100 percent. It brought families and music fans together for an inspiring night of music. I talked to fans after the show and they said they came as far as California to see the show. The male audience loved In This Moment and Skillet. Be sure to check out interview with Eric Bass at Hardrock Haven.
Set List:
I'm Not Alright
Enemies
Devour
Unity
The Crow And The Butterfly
Adrenaline
I'll Follow You
Diamond Eyes
If You Only Knew
Amaryllis
Sound Of Madness
Second Chance
45 – Acoustic
Simple Man – Acoustic
Bully
Get concert info @ www.facebook.com/carnivalofmadness.
Special thanks to Amanda from ABC PR and Eleven Seven Music for making this review possible.
2013 Carnival of Madness Tour Concert Photo Gallery