by Deb Rao
– Senior Columnist —
August 23, 2013 at Vinyl in Las Vegas, NV. —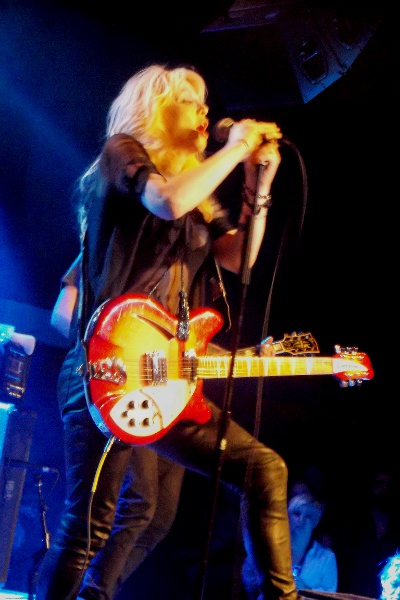 Las Vegas nightclub Vinyl celebrated its first year anniversary with Courtney Love on Aug. 23 with opening act Ginger Wildheart and Todd Kerns. The enchanting Courtney Love delivered an hour set of pure rock and roll magic. This was my first time seeing the singer and she surely captivated the audience.
Courtney's guitarist Ginger Wildheart and Las Vegas's own Todd Kerns opened the show with an outstanding acoustic set. Highlights of the set included The Replacements hit "Answering Machine." Ginger Wildheart style kind of reminds me of Mike Peters from The Alarm. Ginger and Todd performed a few Wildhearts songs including, "Geordie In Wonderland", and "You Took The Sunshine From New York." A song in which Ginger said he wrote for Las Vegas. Todd Kerns from Slash did a great job on acoustic guitar and backing vocals. The duo delivered a heartwarming set that was well received. Also Frank Sidoris from Slash joined them onstage for the Cheap Trick cover "Surrender." Don't miss Todd Kerns acoustic show at Vamp'd on Sept. 2.
Courtney Love hit the stage donning black leather pants and a sheer black blouse. With guitar in hand, she quickly took the audience by storm rocking hard. It is amazing how her voice can go from fragile to furious. Her song phrasing style was captivating. The Queen of Punk Rock shined tonight. It was all about the music. The band rocked hard on "Skinny Little Bitch." She played a lot of songs from Hole.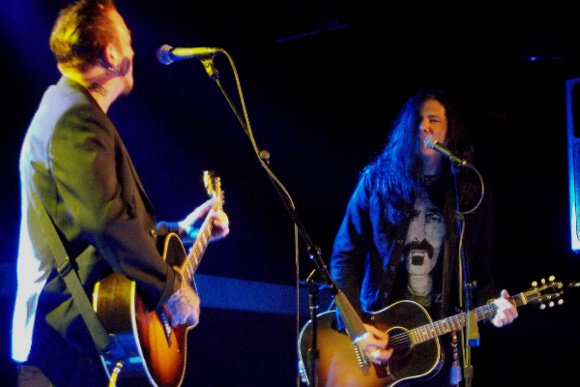 During "Violet", she tossed shredded violets into the audience. Highlight of the set was the song "Pacific Coast Highway." Another highlight was the outstanding remake of the Fleetwood Mac song "Gold Dust Woman." I loved the way she went from acoustic and innocent to slowly building the song into a powerful climax. Every song told a story. Courtney returned to the stage for encore, "Doll Parts."
It was inspiring to see a women rocker than can deliver the goods relying on the substance of her songs. Courtney was sexy and backed it up with the delivery of her songs. Vinyl is one of the best clubs in Vegas to see national acts. It was great to see a women rocker celebrate the first year anniversary.
Set List
Plump
Miss World
Skinny Little Bitch
Gold Dust Woman
Pacific Coast Highway
Violet
Malibu
Dying
Pretty On The Inside
Asking For It
Celebrity Skin
Doll Parts