by Anabel Dflux
– Photojournalist —
September 16th, 2013 on at the Hollywood Palladium in Hollywood, CA. —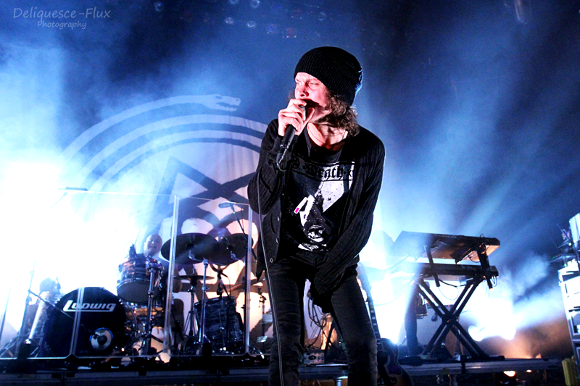 Finnish love metal-ers HIM returned to the states after a lengthy hiatus on September 16th. Due to an unfortunate illness earlier this year, the band was forced to cancel their headlining tour, but redeemed themselves by jumping on the Rockstar Allegiance Tour with Airbourne (not present during the LA date), All That Remains, and Volbeat. From festivals to beautiful venues, these boys have done it all during their nearly __ year stint as a band. A much anticipated performance, and a sure talk of the town, was the Hollywood Palladium- one of the most historic venues in Los Angeles.
Fans jumped excitedly when the lights dimmed and music began to play, as the band nonchalantly strolled unto the stage. Opening with "All Lips Go Blue," from the newest album Tears on Tape, Ville Valo jumped right in there with his deep, baritone vocals, swooning the females in the room with a mere note. Linde' found himself primarily on the right side of the stage, with his traditional pose and passionate expression. Mige' really rocked the house on bass. Gas was semi-hidden behind plexiglass, but brilliantly illuminated by the back light behind him. Burton was in his own world on keyboards!
Constantly alternating between playing the acoustic guitar and leaning into the crowd to sing, Ville gave a varied performance that was both interesting and effectively highlighted his skills. The set list was a clever mixture of new and old, as HIM's iconic sound constantly resonated during the performance, but was mixed in with the edgy, almost pop-like sound off the newer albums, catering to both long-standing and recent fans. The other musicians really shined that night as well, with long guitar solos accentuating honed talent that took years to master, to impressive percussion work and keyboard melodies. The stage was adorned with HIM iconography, thrilling the audience immensely. The lighting (that was quite reminiscent of stadium performances) definitely added to the atmosphere of the show, often with soothing blues and purples and bright greens and reds painting the stage. A brilliant array of color to say the least.
"The Funeral of Hearts," a song that this band often ends their set with, finished off their half of the night. A grateful thank you and polite good bye mushed the band off the stage as their set ended.
The following day, HIM found themselves reclining on the couches at Soundcheck Hollywood, surrounded by memorabilia of dozens of other famous acts, for a rescheduled meet and greet with fans. With warm smiles and appreciative words, the band welcomed each fan that showed up that day, before catching a flight to their next performance.
Set list:
1. All Lips Go Blue
2. Buried Alive By Love
3. Rip Out the Wings of a Butterfly
4. Right Here in My Arms
5. The Kiss of Dawn
6. Hearts at War
7. Join Me in Death
8. Your Sweet Six Six Six
9. Passion's Killing Floor
10. Tears on Tape
11. Wicked Game
12. It's All Tears (Drown in This Love)
13. Soul on Fire
14. Into the Night
15. The Funeral of Hearts
Band members:
Ville Valo – Vocals
Mikko "Linde" Lindström – Guitar
Mikko "Mige'" Paananen – Bass
Mika "Gas Lipstick" Karppinen – Drums
Janne "Emerson Burton" Puurtinen – Keyboard
2013 HIM Concert Photo Gallery