by Ed Esposito
– Photojournalist —
September 6, 20132 at Bergen Performance Center in Englewood, NJ —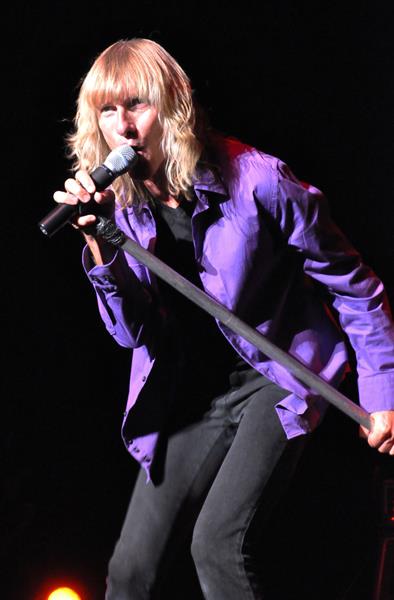 Kix, the "old road warriors" made a successful return engagement at the Bergen Performing Arts Center in Englewood, NJ. While other bands of their genre are out playing and to be kind, in no way looking their best, Kix has never sounded or looked better in their close to 4 decade career. "It's a nice theater and we seem to be able to draw some people in that area. It's outside the Maryland/Baltimore area but still within driving distance so we're able to make a weekend out of it when we're doing another show in the Maryland area," stated axe slinger Brian "Damage" Forsythe.
There could be a very logical reason as to why they are experiencing such a resurgence in their long career… It might just be that although they were often lumped in with bands that many considered to be "hair" or "glam" metal, Kix possessed far many more dimensions than their competition. It might also help that in addition to drummer Jimmy "Chocolate" Chalfant, bassist Mark Schenker and original member guitarists Forsythe and Ronnie Younkins, (one of the tightest units in rock history) they have been fronted by one of the greatest lead singers, Steve Whiteman. How many bands from back in Kix's apex days have a front man who can take command of a stage and still look good while taking off his shirt? Whiteman's "hamster on crack" stage persona does not have to be hidden behind an untucked shirt.
KIX was founded in 1978 in Hagerstown, Maryland as The Shooze/The Generators before eventually settling on their current moniker. Their uber relentless touring across the northeast got them noticed and recognized as one of the top acts in America. They were considered one of Maryland's top cover/touring bands prior to their unfortunate signing with Atlantic Records in 1981. They worked their way up to headlining sold-out shows at the local rock mecca Hammerjacks (Baltimore's version of L'Amour) and played high-profile coliseum shows with bands like Ratt, and AC/DC. It was a shame that Atlantic could not do a better job to promote the band. They had no better albums in their entire roster than 1981's Hot Wire and 1989's Blow My Fuse.
Kix always grabs you by the jugular. There are few bands who deliver that "seconds before a concert" anticipation. You just know you're going to see a great show. This band rarely delivers a dud, whether it is in front of 10,000 fans at an outdoor concert or 500 in a club.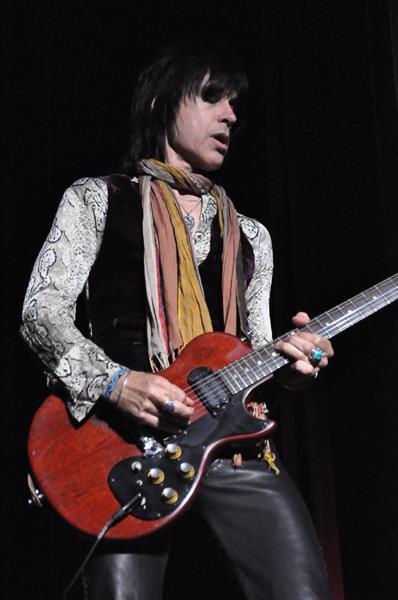 Kix hit the Bergen PAC stage with full frontal force belting out one of their most popular songs "Girl Money." Forsythe and Younkins charged the stage and electrified their audience from the get-go. It didn't take them many songs to hit their full stride. They were off and running with "The Kid," "Red Hot (Black & Blue)" and "Sex," on their way to another triumphant return to the Garden State. By the time the band ripped into "No Ring Around Rosie," Younkins and Forsythe were trading licks like no other in the business. How this band sounds as tight as they do is a modern-day wonder! With Forsythe flying in from the west coast for weekend gigs, when does the band ever get time to rehearse as a unit?
KIX live concerts are legendary. The classic driving tunes are the calling card of this band. They have perfected their shows to such a point that they're a spectacle to behold. Their fans change their schedules to see them as soon as they find out they are coming to town.
Whiteman is a vastly under-rated performer! He is Mick Jagger, David Lee Roth and Steven Tyler wrapped into one package. Unlike Paul Stanley, Whiteman always delivers updated stage banter that has him ranked as one of the funniest front men in history.
Forsythe and Younkins are two of the coolest guitar players to join forces in any band over the past four decades. They were in fine "never-missing-a-note" form with some excellent solos throughout the show. Singer Steve Whiteman also contributed very good harmonica on "No Ring Around Rosie," as well as a few other songs during the night.
"The driving force initially was to make some money and have some fun doing it and it still is to a certain extent. I've always been driven to play music and to perform live so as the interest grows with the fans so does my motivation," said Forsythe.
Even though both MTV and FM radio played "Don't Close Your Eyes" to death, it has always been a high point of the band's show for over 25 years. On this night they had the whole crowd singing along with Whiteman. It was a good idea to have the song early in the set to provide rip-roaring momentum through the show.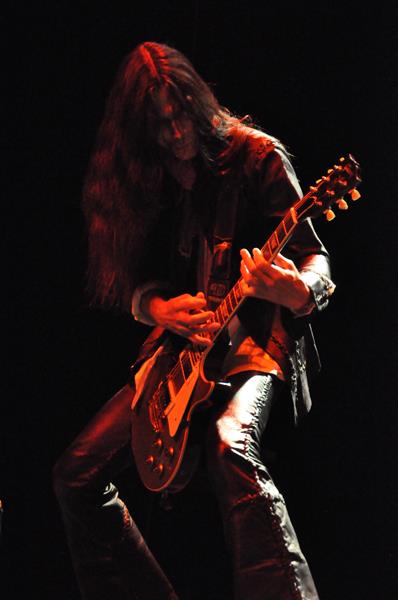 The band was in high gear as they brought the weekend party to its zenith. The high-revving "Layin' Rubber," and bass-driven "Cold Shower" featuring the appearance of the famous Kix umbrella (the band MUST start selling these again!) had Kix taking the audience into the palms of its hands.
"Cold Blood" was the test to see if Whiteman's vocals held any weight and higher frequency. He's still hitting the high notes pretty accurately. He joked, "I had my testicles removed to do this!" during the sing-along portion of the song.
Chalfant led the band from his well-accepted drum-solo into the show closers of "Blow My Fuse" and "Hot Wire." Admittedly, it would have been nice if the band had forgone one of the solos to feature a song from the recently completed album. I later learned that since the band has been recording on separate coasts, they really have not had any time to perfect the songs which are in the final mixing stages.
Whiteman closed the show with the crowd favorite "Yeah, Yeah, Yeah" including his profanity-filled interlude which is forever the song that sets him apart from his competition.
As they have been doing for so long, Kix came, Kix saw and Kix conquered the crowd on this night. You can tell this band is primed and ready for its soon-to-be-released first album in 18 years.
Forsythe relents, "History has a habit of repeating itself and there seems to have been a resurgence of 80s bands in general in the past several years since we started up again so we're just riding the wave while it lasts. I don't really know why but it seems to have really taken off again to the point of where we finally gave in and did record a new record. We had no plans of doing that when we first got back together but after relentless requests from fans and then finally the record deal with Frontiers Records, which was initially to release and distribute the live DVD but as a condition in the contract to do so, they also wanted a new studio recording. We're hoping the new record will boost interest in the band even further. Maybe even get us on a real tour."
2013 KIX Concert Photo Gallery