LIVE! | Puddle of Mudd in Las Vegas
by Deb Rao
– Senior Columnist —
August 31, 20132 at Fremont Street Experience in Las Vegas, NV. —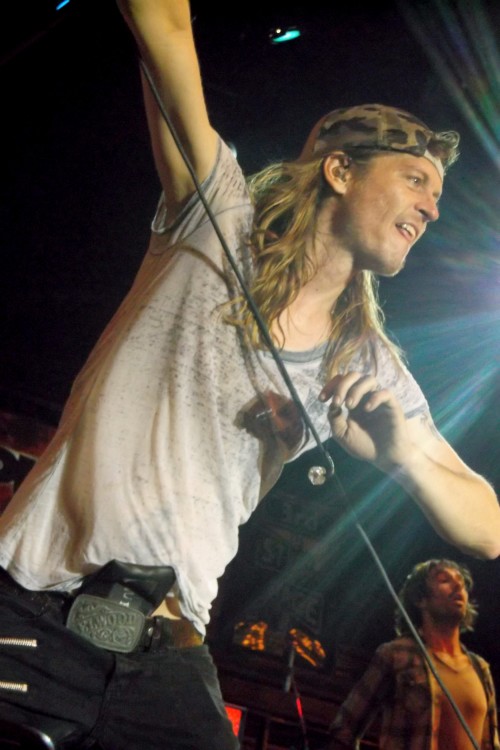 What better way to bid adieu to summer than with a free Puddle Of Mudd Concert on Labor Day weekend in Las Vegas? Fremont Street Experience wrapped up its very successful Rock Of Vegas Concert series on Labor Day Weekend. It is hard to believe the summer is over. Here in Las Vegas we are in monsoon season. As rained poured down earlier in the day, thankfully the weather cleared just in time for the out door concert. Everywhere I seem to go rain seems to follow me this summer. Tonight at the Puddle Of Mudd concert and my birthday weekend celebration was no exception.
The gloomy weather did not keep fans away, as around 10,000 POM fans invaded the Fremont Street Canopy. Puddle Of Mudd hit the stage at 9:10 p.m. for an amazing 90-minute concert. Opening with "Control," Wes Scantlin took full command of the audience. Everyone knows that Vegas is one of Wes's favorite places to perform. During the concert he commented, "This has to be the best concert ever. Period." I would have to agree. After seeing Puddle Of Mudd many times, tonight's concert was exceptional.
The Puddle of Mudd line-up also included bassist Doug Ardito, Christian Stone on guitar, and Shannon Boone on drums. The band played many favorites including "Stoned", "Psycho", and "Spaceship." Wes was in a great mood and really got the party started this Labor Day weekend.
As the show was coming to an end, rain descended once again on the audience. But that didn't keep the band from playing two encores including "Blurry" and "She Hates Me."
It was great to see the band back on the road. Guitarist Christian Stone did a great job as guitarist. This had to be one of the fan favorite concerts of the season. Special thanks to Megan from Fremont Street Experience for letting Hardrock Haven cover all the amazing concerts this summer. After the show, Wes greeted many fans. It didn't matter that is was raining. That is how down to earth and unpretentious the band really is.
Set List:
Control
Out Of My Head
Famous
Living On Borrowed Time
Drift And Die
Away From Me
Nothing Left To Say
Stoned
Psycho
Spaceship
Basement
Blurry
She Hates Me