Ministry | From Beer To Eternity
by Alissa Ordabai
– Senior Columnist —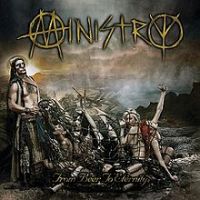 "Not only is it Mikey's last parting shot, it's my last parting shot," Al Jourgensen confirmed yet again last week, this time in his interview to Loudwire magazine. "I am not doing another Ministry record without Mikey. Zero. None."
Guitarist Mike Scaccia, whom Jourgensen describes as the driving force behind the record, died onstage playing with his band Rigor Morits three days after Ministry have completed sessions. A sudden heart attack sealed not only Scaccia's fate, but also that of one of the greatest metal and industrial music acts. And perhaps the greatest when it comes to the sheer courage of their scathing social and political commentary.
It is true that Jourgensen has been making various "we quit" announcements for five years now, but now he sounds adamant that this is needed the end. The music, however, grew more intense since the band began teetering on the edge of dissolution. The 11-track offering in hand may not quite match the ferocity of its 2012 predecessor Relapse, but the songwriting focus stays just as sharp.
Opener "Hail to His Majesty" comes through as surreal and as urgent as the best of the band's past masterpieces: pumping guitar riffs, eerie electronic noises, trance-inducing ostinato grooves, and Jourgensen's voice screaming out of the depth of our collective animal heart. Haunted, phantasmagorical, and powerful – the band here gives you the distilled essence of their lifeblood.
Their intuition for aligning all kinds of influences too stays impeccable. Pop choruses next to epic guitar riffs, roiling thrash grooves, spoken word, electronic samples, Middle Eastern allusions, and even 70s disco all become partners when drenched in waves of Jourgensen's dark apocalyptic premonitions. Together they end up painting a full-color panoramic vision of the Western society's obsessions, syndromes, and also its likely fate. The prognosis feels ghoulish, but Ministry never sounded so fluent and so compelling.
Some would call this record a swan song, but the image emerging here resembles more a pterodactyl in full flight: otherworldly, menacing, fascinating, and driving home fundamental truths as old as life on Earth itself.
Genre: Metal, Industrial
Personnel:
Al Jourgensen – vocals, keyboards, synthesizers, guitar, bass guitar, drums
Mike Scaccia – guitars
Sin Quirin – guitars, bass
Tony Campos – bass
Aaron Rossi – drums
Track Listing:
1. Hail to His Majesty
2. Punch in the Face
3. PermaWar
4. Perfect Storm
5. Fairly Unbalanced
6. The Horror
7. Side FX Include Mikey's Middle Finger (T.V. 4)
8. Lesson Unlearned
9. Thanx but No Thanx
10. Change of Luck
11. Enjoy the Quiet
Label: 13th Planet
Online: http://thirteenthplanet.com/ministry
Hardrock Haven rating: 9/10