Paul McCartney & Wings | Rockshow
by Steve Patrick
– Columnist —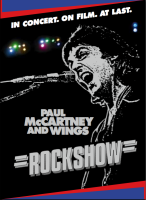 There are some things in life that are worth waiting for and Paul McCartney & Wings' new Blu-ray/DVD Rockshow is most certainly one such thing. The deluxe 2013 release of Rockshow is a welcome treat for those McCartney fans who did not see Rockshow during its theatrical releases in the early 80s, own the film on Betamax, VHS, or LaserDisc, or who were unable to see Wings live in 1976 on the Wings Over the World Tour. Released in tandem with the companion live record Wings Over America, Rockshow depicts a moment in time when McCartney had truly established himself in his own right following the demise of the Beatles.
Rockshow features what many consider to be the definitive lineup of Wings (Linda McCartney, Jimmy McCulloch, Denny Laine and Joe English) performing a myriad of the band's hits peppered with a few Beatles gems from McCartney's past. The excitement of the crowd is captured perfectly as it represents US audiences seeing McCartney not only performing his solo and Wings-era tunes, but also a handful of Beatles songs that die-hard US fans had not heard live in over a decade at the time of filming.
Culled from footage of the New York, Seattle, and Los Angeles stops on the tour, Rockshow still has a feel of this being one unified show. The setlist draws heavily from the two most recent albums that McCartney & Wings had released at the time: 1975's Venus and Mars and 1976's Wings at the Speed of Sound. The true charm of Rockshow is getting the chance to hear some more obscure songs that Macca no longer performs like "Magneto and Titanium Man" and "Beware My Love".
Vocal duties in the film are shared amongst several of the band members. Ex-Moody Blues member Denny Laine lends his vocals to "Spirits of Ancient Egypt", "Richard Cory" and a rendition of his early Moody Blues hit "Go Now". The late Jimmy McCulloch also sings lead on his song "Medicine Jar". Linda McCartney offers background vocals and keyboards throughout the film. Rockshow captures a true band at work. After some time spent as a solo artist, it is clear in the film that McCartney is enjoying being back in a band situation. One thing is for certain, he had assembled a group that he could depend on musically.
Clearly, McCartney's decision in 1976 to include Beatles songs in the setlist was a monumental one for fans of the classic band. McCartney's selections were tasteful and well-executed. The crowd roared with the opening piano bounce of "Lady Madonna" which led into the somber "Long and Winding Road". Later in the show there is a mini-Beatles set consisting of "I've Just Seen a Face", "Blackbird", and "Yesterday". Looking back it is staggering that McCartney was able to get away with only playing five Beatles songs, but still the small sample clearly made an impact on the adoring audience.
The 2013 re-release of Rockshow also expands the original edited 102-minute home release to its full 125-minute glory. Who ever thought it would be a good idea to edit out any part of a Sir Paul concert in the first place? Thankfully cooler heads prevailed with the re-release. Rockshow 2013 also includes a bonus feature entitled "A Very Lovely Party" that includes candid video of McCartney and friends hanging out backstage with the likes of Harry Nilsson, Chevy Chase, Elton John, Cher, and most importantly Ringo Starr.
The picture quality on the Rockshow Blu-ray is by far the best that anyone could hope for. Fully restored from the original 35mm film and with restored/remastered sound, Rockshow sounds as amazing as it looks. Eagle Rock Entertainment has a reputation for putting out quality live videos releases and this is no exception. As an added bonus, McCartney interviewer and author Paul Gambaccini provides a charming essay inside the Blu-ray that gives some insight into the film and the Wings Over the World Tour. Any self-respecting fan of McCartney, or just live rock music in general, needs to own this.
Genre: Rock
Band:
Paul McCartney – vocals, bass guitar, guitar, keyboards
Linda McCartney – vocals, keyboards
Denny Laine – vocals, guitar, bass guitar, piano
Jimmy McCulloch – vocals, guitar, bass guitar
Joe English – vocals, drums, percussion
Track listing:
1. "Venus and Mars"
2. "Rock Show"
3. "Jet"
4. "Let Me Roll It"
5. "Spirits of Ancient Egypt"
6. "Medicine Jar"
7. "Maybe I'm Amazed"
8. "Call Me Back Again"
9. "Lady Madonna"
10. "The Long and Winding Road"
11. "Live and Let Die"
12. "Picasso's Last Words (Drink to Me)"
13. "Richard Cory"
14. "Bluebird"
15. "I've Just Seen a Face"
16. "Blackbird"
17. "Yesterday"
18. "You Gave Me the Answer"
19. "Magneto and Titanium Man"
20. "Go Now"
21. "My Love"
22. "Listen to What the Man Said"
23. "Let 'Em In"
24. "Time to Hide"
25. "Silly Love Songs"
26. "Beware My Love"
27. "Letting Go"
28. "Band on the Run"
29. "Hi, Hi, Hi"
30. "Soily"
Label: Eagle Rock Entertainment
Hardrock Haven rating: 10/10