Down Press Conference Hellfest 2013
by Christophe Pauly
– Photojournalist —
JULY 21-22, 2013 in Clisson, France —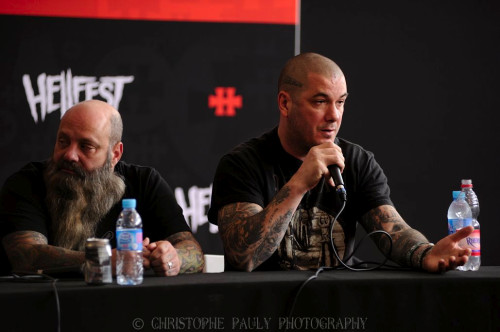 DOWN's press conference at this year's Hellfest, which was held June 21-23 in Clisson, France.
Band:
Phil Anselmo – vocals, guitar (1991–present)
Pepper Keenan – guitar (1991–present)
Kirk Windstein – guitar (1991–present), bass (1995)
Jimmy Bower – drums (1991–present)
Patrick Bruders – bass (2011–present)
Q: What did you think about yesterday's show?
Phil: Fun, man! Real fun!
Pepper: it was one of our best!
Phil: absolutely!
Pep: it's our third time here at this festival.
Q: What's your opinion about extreme music?
Band: There's extreme in every genre. Not just Heavy Metal.
Band: In my opinion, the greatest bands were the Beatles, then there's bands like The Smith … These were extreme. It doesn't have to be fucking heavy metal to be extreme.
Q: What's the most embarrassing moment you lived on stage?
Pep: Embarrassing moment?
Phil: We're not embarrassing.. I think we DO the embarrassing!
Q: What do you prefer with Down? Recording, creating, playing on stage?
Phil: Every damn word! Every situation is enjoyable! If you're a true musician, the creative process is interesting, it's a compromise between brothers, and if you put it down everywhere, it's fucking Down music. But honestly for me the best moment is playing live, that's for sure! We played 3 songs together in 1991 and now we play them in front of thousand people. So it comes full circle.
Q: I know you're a big fan of Black Sabbath, what do you think about the new album?
Phil: I haven't heard it!
Pepper: I did some research on it but I can't understand why Bill Ward isn't on it. It stunned me. You can put out Ozzy's vocals, and it could be every band on the planet!
Q: What's your opinion about downloading music?
Band: It's fucking robbery, it's fucking steal, it's ridiculous. To me, if you want to know a band, you have things like you tube. Go watch it and don't steal music. I know that people want to share it with their friend, that's one thing.
Band: And it's easy because people don't have to move their ass to get it. But the day before Warbeast album came out; we found a hundred illegal site to download it a week. It's fucking robbery. Go back to vinyl.
Q: What was the reaction about the last EP?
Phil: I don't know. I don't read reviews; I don't care about popularity contest. We put out an album honestly; I don't give a shit with popularity contest. Having new people and new fans. Down has his own audience. And wither you like it or not, it's like food or love. But I look at all those Down t-shirt here and I know that Down has his fans and they'll like this album.
Q: What do you think of new bands? Is there one you could recommend?
Phil: I think that music in general is going to a transition. It's time now for the thinkers who write music to step on and move in. Because to me there are cornerstone bands in every genre you look at. And they're leaders, they do what they do, they're great act. And next to that, copycat, It's boring in every fucking genre. A lot of bands are looking for their own identity. But write your own riffs! There's a lot more than 4/4 or things like that.