by Deb Rao
– Senior Columnist —
Korn is gearing up for their eleventh studio release The Paradigm Shift on October 8th. The CD marks the return of guitarist Brian "Head" Welch. The Paradigm Shift is full of catchy melodies infused with the infectious vocals of Jonathan Davis.
In this Exclusive interview for Hardrock Haven, drummer Ray Luzier discusses the return of Brian "Head" Welch, the new Cd, plus the upcoming tour slated to kick off on September 26th in Philadelphia.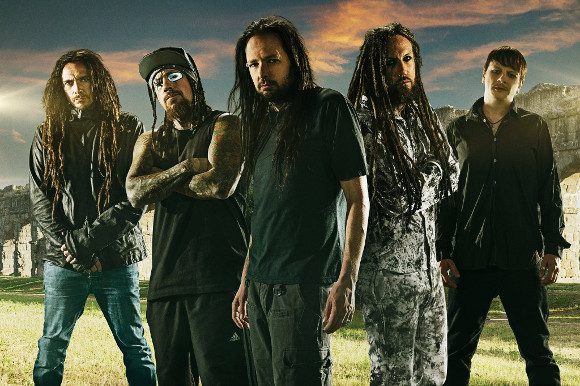 HRH: Ray, Thank you so much for checking in with Hardrock Haven.
Ray: You got it. How are you?
HRH: I'm good. Korn's new release is slated for October 8th. The album marks the return of guitarist Brian "Head" Welch. Tell us how this all transpired with the return of Brian to the band?
Ray: Korn never stops. We are always out playing. So last year we did Carolina Rebellion. Brian ended up sitting in with us. He happened to be there watching a band called Red. We invited him on stage. He played "Blind" with us. It kind of went from there. The vibe was so good. He has been out of the band for seven years. I have been in six years. We just kept going. The next thing we know that led us to the studio. We started writing some songs.
HRH: Tell us about the writing process for The Paradigm Shift. What was your goal when you went into the studio? Did you want to have a fresh new sound or stick with the successful signature formula that Korn is noted for?
Ray: The thing is with Brian back in it was amazing the chemistry that Munky had between them. All the past kind of went into the past. It was water under the bridge, so to speak. Once we got in there. We just wanted to see what we would come up with. We said hey, what can we come up with fresh? We started writing stuff and it just flowed. Sometimes when you get into a situation like that you never know? There is no substance abuse. Everyone is just focused on the band now. I think that had a lot to do with it. We ended up with 25 tunes. In January, we decided to bring producer Don Gilmore in. He made the quality higher. I am really pleased. I think this is probably the best record in the last ten years.
HRH: I really like the melodies on this album. I saw the video for "Never Never." Do you think you are more melodic and have more melodies streaming through on this album?
Ray: For sure. I told Jonathan, I don't know what place you are in right now. But I love it. There are harmonies and melodies.
HRH: Tell us about the making for the video for "Never Never." That is pretty cool with the clock in the background.
Ray: That is the whole concept. She is always trying to control us and control time. You hear the vision and hope for the best.
HRH: Tell us about the concept of the album? How did you come up with the title The Paradigm Shift?
Ray: Munky came up with it actually. James is really good at coming up with different titles. Basically, it means everything has two different meanings. Every situation has two different meanings.
HRH: That is really cool. Do you have any favorite tracks off of the album?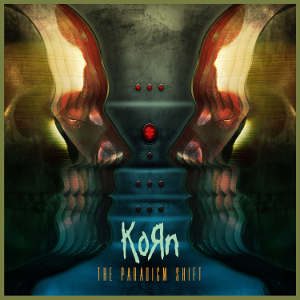 Ray: I love them all. I really do. It is weird. I don't dislike any song on there. The first song you hear "Prey For Me." It hits you over the head so hard, if I was a Korn fan that is what I would want to hear. There are so many good songs on there. That is saying a lot. That is saying a lot because usually the artist is your worst critic.
HRH: Now the tour kicks off September 26th at the Electric Factory. Tell us about the tour.
Ray: We are doing a small run. We just got back from giant festivals. We did from 60,000 to 80,000 seats. It is kind of cool. We are doing a club theater tour right now. We are kind of scaling it down. So we are not going crazy on this particular tour. But there are a lot of things in development right now coming up that we are talking stage settings.
HRH: I know you are doing one off day October 5th in Denver for the Family Values Festival. That will be a pretty big deal.
Ray: It hasn't been around in seven years. So it was time we thought to bring it back and try a show out and see what happens.
HRH: How many new songs will you be playing on the tour?
Ray: We just started the other day in Sacramento. We did "Love And Meth", and "Never Never." It is great. Korn has such a huge catalog now. It is hard picking a set list.
HRH: Yes, there are so may great songs. How over the years do you think Korn has evolved since you joined the band?
Ray: I love being in a band that is not afraid to take chances.
HRH: You mentioned you played some pretty big festivals this summer. What was it like playing to the masses at Rock on the Range and Rocklahoma?
Ray: It is awesome. It is like we are waves in an ocean. It is amazing to feel the power and the energy of the crowd. I also love playing House of Blues. Everyone is right in your face. Sometimes in a giant place, you lose some of the translation if the stage is too big. Smaller places there is no denying.
HRH: The tour ends in Vegas on October 12th. It is going to be a great show. Are you excited about coming to Las Vegas?
Ray: Yes, for sure. Vegas is always a riot. No better way to end it.
HRH: Right. Is there anything else that you want to say about the new album? I think it is going to be very successful. I really love the great guitar hooks on it.
Ray: I encourage people to buy the deluxe edition because it has got the Dvd and Brian returning to the band. And you get a couple extra songs on it.
HRH: Awesome. Thank you so much Ray. See you in Vegas.
Official website: http://www.korn.com/