Riot Kings | Devil's Medicine
by Alex Barbieri
– Senior Columnist —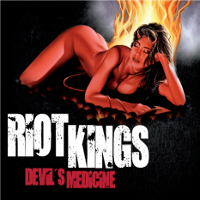 Looking for a new CD to rock during the fall/Halloween season? Check out Riot Kings' Devil's Medicine.
One of the pleasures of following a good band is seeing them become great over time. Such is the case with Connecticut's Riot Kings, one of the hardest working bands on the modern hard rock scene.
Formed in 2009 by former Tango Down bassist, Keith Sinnott, and guitarist Bill "Bones" Barklay, the pride of Bridgeport are back with their third full-length album, entitled Devil's Medicine. Once again produced by Paul Opalach at Long Hill Recording in Shelton, CT, the album shows a marked improvement, dare I say maturity, in songwriting and musical performances. Opalach's production is heavy and refined, but retains the "garagey" feel that gives Riot Kings their rawness and DIY accessibility.
Singer Kent Johannesen has really come into his own as a vocalist and lyricist on this one. Despite his young age, Johannesen sings like a man who has been around, been hurt, done some damage himself, but is a better man for it. It's great to hear him embrace more melody and harmony on the new album, but make no mistake, Riot Kings is still heavy as f**k.
What makes this new album consistently listenable is that Riot Kings aren't afraid of dynamics; to get heavy and angry, and then play softer to get a different mood and emotion across, much as Nirvana did so effectively. Humans are multidimensional creatures, full of different, sometimes conflicting emotions, and the dark beauty of Riot Kings is that their songs lock into that multifaceted aspect in all of us.
Here are some highlights of the new album:
"Time To Fly" – Growling opening track reminds of Korn, Primus, Pearl Jam, and Soundgarden; great hook and harmonies.
"Fuckin' Wasted" – Attention Florida strippers, this is your new favorite track to dance to. And a hit single in the making on college radio stations across the country.
"Long Way Home" – Kudos to the band for the courage to do an acoustic ballad. John Mayer with a set of balls. Johannesen singing from the heart.
"Murder You" – The sonic equivalent of a killer workout—emotionally purging and therapeutic. Nice job, Sinnott, on rap vocals. Should be Ultimate Fighting Championship intro music or on a Hollywood movie soundtrack.
"Devil's Medicine" – Killer hook and harmony on the lyric, "Be a better man."
"Mock Suicide" – Reminds of Nirvana; another example of very unique playing and picking style by guitarist, Bones.
If you're looking for a killer new rock album, take a shot of Riot Kings' Devil's Medicine. It should appeal to both classic rockers and nu metallers alike. We think you'll find them just what the devil ordered.
Genre: Modern, Hard Rock, Alternative
Riot Kings are:
Kent Johannesen – Lead Vocals
Bones – Guitar
Keith Sinnott – Bass
Marc Mascagna – Drums
Tracklist:
1. Time To Fly
2. Bleed
3. Fuckin' Wasted
4. Long Way Home
5. Murder You
6. In the Air Tonight
7. Devil's Medicine
8. Holy Christian Bible Rocket
9. Mock Suicide
10. El Diablo
11. Energy
Buy Riot King's Devil's Medicine on Amazon.com. http://www.amazon.com/Devils-Medicine-Explicit/dp/B00F5TF3SU
Or at CDbaby.com http://www.cdbaby.com/cd/riotkings3
Check out the Riot Kings on ReverbNation. http://www.reverbnation.com/riotkings
Friend Riot Kings on Facebook at: http://www.facebook.com/pages/Riot-Kings/239555403468
Hardrock Haven rating: 9/10