Sinister Guitar Picks: Brings the Metal
by John Kindred
– Publisher —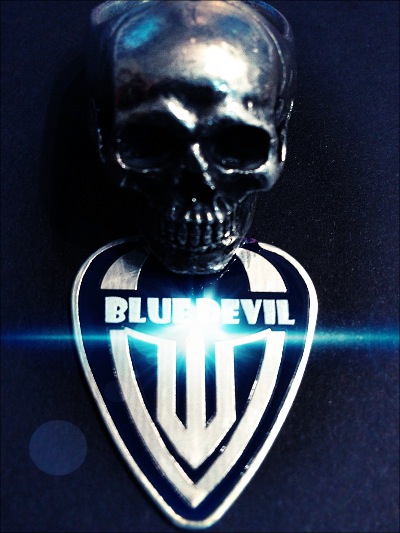 Of all the tools in a guitarist arsenal, the pick may be the most overlooked. The guitar pick, or plectrum, typically is made of plastic, nylon or tortoiseshell but also can be made from rubber, wood, glass or stone. What may not be obvious is that these different materials have a tremendous effect on a guitarist's tonality.
One commonly used material is metal. And one artist who has made a metal pick a focal point to his unique sound is Queen's Brian May. His unique choice of a plectrum comes in the form of reshaped sixpence, which is a small discontinued British coin.
Musicians know that a metal guitar pick, whether a coin or made from some other type of metal is quite hard on their thin guitar strings and that may keep them from following the road paved by Brian May.
Well, Sinister Guitar Picks has entered the game, offering a line of metal guitar picks that have been specifically designed to capture the unique tone created by a metal plectrum and their feel and design complements the longevity of a player's guitar strings.
Sinister Guitar Picks offer several designs and thicknesses. All Sinister Guitar Picks have a SGP#, which represents the thickness of the pick: SGP-39 (1.0mm), SGP-30 (.75mm), SGP-20 (.50mm), and SGP-15 (.40mm).
Styles include:
• Sinister Guitar Pick Amplified Edge
• Sinister Guitar Pick Blue Devil
• Sinister Guitar Pick Blue Devil Twin Edge Pro Blade Series
• Sinister Guitar Pick Silver Skull
• Sinister Guitar Pick Strike
• Sinister Guitar Pick White Lightening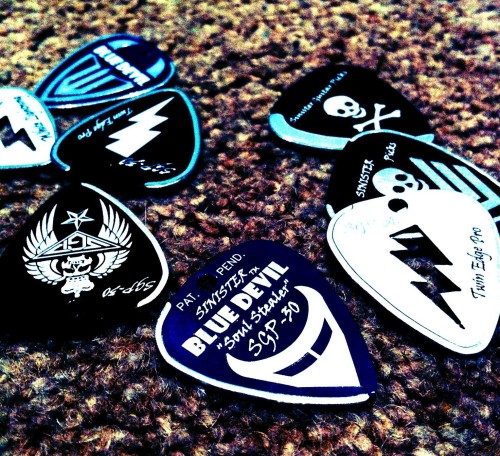 Each pick has its own unique features. And Sinister Guitar Pick's latest exclusive design is the Blue Devil Twin Edge Pro Blade Series. This pick features a twin-beveled metal edge in either 30- or 45-degree angle and is offered in the SGP-30 (.75mm) Medium- Heavy thickness. The beveled edge helps to eliminate resistance and string drag when playing 16th or 32nd notes for all you shredders out there.
With such a large selection of picks from which to choose, Sinister recommends that you buy a Sinister Starter Set so you can test drive their different designs and thicknesses so you can find the right match for you.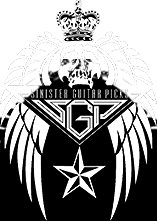 You can't beat their logical designs and variety of product choices. This sure beats using your pocket change to achieve that you sound you have been looking for. Honestly, a few weeks isn't enough time to put these devilishly designed plectrums through the paces and pick a favorite. The quality in craftsmanship combined with the age-old design guitarists have become accustom to make each pick a comfortable replacement for the standard plastic or vinyl pick.
Sinister Guitar Picks currently is working on designs for a bass plectrum, allowing bassists everywhere to get the unique tone that only can be derived from a metal pick. So keep your eyes open for their availability at Sinister Guitar Pick's online store.
Get your Sinister Guitar Pick today http://www.sinisterguitarpicks.com/
Get 10% off your order at Sinister Guitar Picks, just use Coupon Code: hardrock10