by Joe Mis
– Senior Columnist —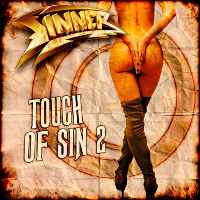 Many metal fans are familiar with the work of Mat Sinner through his time with German power metal masters Primal Fear, but there is so much more to Mat than just the bass guitar. Besides massive bass chops, Mat is also a fine songwriter, producer, and the driving force behind Voodoo Circle, Rock Meets Classic and his eponymous band, Sinner.
Mat has decided to release Touch Of Sin 2, a "best of" collection of Sinner's (the band's) works, many from albums that have been out of print for quite a while. Rather than simply pull dusty tracks out of the vault, Mat and company have rerecorded 11 of their best, giving their old material (some dating back to the middle 80s) a modern spin. They've also added three brand new songs to the mix (one is a cover of an old Thin Lizzy track), making Touch Of Sin 2 a truly new release. The band continues to deliver a blend of melodic metal and hard rock with enthusiasm and a real sense of enjoyment.
Brutally heavy '80s metal riffs open the album on "Born To Rock." Everything is heavy on this track – booming bass, big drums, thick rhythm lines, and deep vocals – a real tribute to everything that made metal what it is today. The big guitar hooks continue into "Comin' Out Fighting," and the rolling rhythm line sounds a bit like Megadeth meets Accept. "Bad Girl" is a lighter, more upbeat track, but the chorus vocals sound a bit dated, giving the track somewhat of a "happy rock" sound that is out of place with the rest of the album. The super-thick guitar riffs are back in "Knife In My Heart," but the vocals are the true highlight. This track also features some amazing drum work and a near sing-along chorus. "Concrete Jungle" is another typical 80's rocker. The lyrics are a little repetitious, but the guitar solos are SMOKIN'…
"Don't Believe A Word" is a wonderful cover of the Thin Lizzy classic, and the band hits this one perfectly. Phil Lynott would be proud! "Shout" is a simple metal party anthem with gritty vocals, a soaring break, and a lively rhythm line – but it sounds a bit dated even with its modern recording. A little bit of post Berlin-wall celebration leaks through on the rollicking "Germany Rocks," and "Danger Zone" is a straight up hard rocker through and through. "Emerald" is a more modern sounding double bass drum driven piece, although the overall performance does not seem as relaxed as the others on the album.
"Blood On The Sand" is a superb modern metal track with nicely delivered timely lyrics and a strong sense of mood and drama. The heavy sound is back on the gritty "Lost In A Minute" and the guitar-driven "Masquerade" will blow out most speakers. Mat and crew pull out all the stops and unleash "Heat of the City" to close out the CD. Blistering guitars, rocking bass, amazing drums, and strong vocals produce a track that takes no prisoners – all that's missing are fireworks and explosions!
All in all, Sinner's Touch of Sin 2 is a solid album that is sure to please fans of old school hard rock and heavy metal, as well as fans of today's heavier genres. Mat Sinner fans will also approve, as the veteran musician is in fine form both in front of the microphone and behind the bass. The band is tight and effective, and each member is able to shine. The only negative worth mentioning is one that is unavoidable – most of the tracks were written many years ago so the lyrics sometimes sound a bit odd to today's ears, but that would be the case for almost any artist with a discography that spans decades. Well engineered and produced, Touch of Sin 2 simply rocks. Get it!
Genre: Hard Rock, Metal
Band:
Mat Sinner (vocals, bass)
Alex Beyrodt (guitar)
Christof Leim (guitar)
Alex Scholpp (guitar)
Andre Hilgers (drums)
Track Listing:
1. Born To Rock
2. Comin' Out Fighting
3. Bad Girl
4. Knife In My Heart
5. Concrete Jungle
6. Don't Believe A Word
7. Shout
8. Germany Rocks
9. Danger Zone
10. Emerald
11. Blood On The Sand
12. Lost In A Minute
13. Masquerade
14. Heat Of The City
Label: AFM Records
Website: http://www.matsinner.com/
Hardrock Haven rating: 8 / 10