Space Vacation | Heart Attack
by Justin Gaines
– Senior Columnist/News Editor —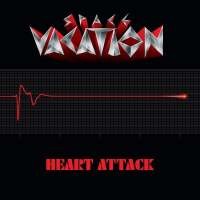 Heart Attack is the second full-length album from San Francisco-based heavy metal band Space Vacation, another in a growing scene of old school metal bands that has been dubbed the New Wave of Traditional Metal. Now signed to the Pure Steel label, Space Vacation is poised to reach a larger worldwide audience with their high-energy brand of traditional heavy metal.
With their party-ready energy and sci-fi inspired lyrics, Space Vacation brings to mind a pair of North Carolina heavy metal bands – Widow and Colossus – which is not a bad thing at all. Like those bands, Space Vacation captures the spirit of the classic heavy metal era as well as the reason it was so much fun in the first place. Heart Attack is Iron Maiden and Judas Priest-inspired metal that's as catchy and melodic as it is hard hitting and shredding. Ex-Vicious Rumors guitarist Kyoshi Morgan lays down some wicked solos, which go perfectly with Scott Shapiro's higher vocal style. "Loaded Gun," "Bro Hammer" and the title track are the standouts, but Heart Attack as a whole is completely satisfying album.
Space Vacation may not be breaking any new ground here, but that's kind of the point. With Heart Attack, you're getting exactly the kind of throwback heavy metal album you expect, and it's one that's a hell of a lot of fun to listen to. Fans of Widow, Colossus, Enforcer, Cauldron and Skull Fist in particular will want to check this one out. It's the perfect album for hanging out with metal-minded friends and drinking a beer or several. Turn it up, raise your glass and bang your head!
Genre: Heavy Metal, Traditional Metal
Band:
Eli Lucas (d)
Scott Shapiro (v) (b)
Kyoshi Morgan (g)
Track Listing:
1. Heart Attack
2. End of the Bender
3. Bro Hammer
4. Boston Massacre
5. Devil's Own
6. Summer Knights
7. On the Road
8. Loaded Gun
9. Logan's Ruin
10. Rocker
Label: Pure Steel
Website: https://www.facebook.com/spacevacationmusic
Hardrock Haven rating: 8.5/10