by John Kindred
– Publisher —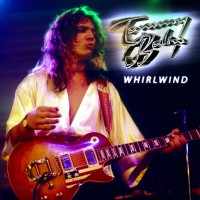 Cleopatra Records/Purple Pyramid Records have put together a two-disc collection of rare and unreleased recordings of the late Tommy Bolin titled Whirlwind. Bolin's brief career was cut short upon his death in 1976. As an artist, he accomplished quite a lot in a few short years, ranging from playing with the James Gang to joining Deep Purple after the departure of Ritchie Blackmore.
While the press release implies that this is a "spectacular collection" of music, fans should prepare for the fact that a lot of the songs suffer in quality because of the limited technology. For example, many of the songs were recorded on a three-track recorder. As noted in Bolin's reproduced letter printed on the digipack foldout, Bolin stated, "It is more a 'potential' tape than anything else … it gives an idea what the guys can do."
Whirlwind is a collection of music that features rare material from Bolin's jazz-rock band Energy, the 26-minute version of "Marching Powder" (titled "Marching Bag") from his first solo album Teaser and includes music that Tommy was preparing for his third solo album. Produced and compiled by Greg Hampton and Johnnie Bolin, the album is a nostalgic glimpse into Bolin's musical world.
Bolin's guitar style incorporated Jazz-fusion, Rock and Blues. The music on Whirlwind leans more in the direction of Jazz-fusion than straight-up Rock. It is important to stress that the majority of the music here is demos. A lot of the ideas are improvised jams and were the beginning of ideas that hadn't been completely fleshed out. For hard-core Bolin fans, this compilation will be a must-have, but new fans should look to his official studio albums as a solo artist or Deep Purple and the James Gang.
Genre: Classic Rock, Jazz, Fusion
Band:
Tommy Bolin (g)(v)
Bobby Berge (d)
Stan Sheldon (b)
Tom Stephenson (k)
Mike Finnigan (v)(organ)
Max Carl (v)
Track Listing:
DISC 1
1. Cucumber Jam
2. Heartlight
3. Hoka-Hay!
4. Don't Worry 'Bout Cash (Acoustic Version)
5. San Francisco River
6. Rock-A-Bye
7. Dungeon
8. Alexis
9. Gotta Dance (Take 2)
10. Spanish Lover (Instrumental Version)
11. Sooner or Later
DISC 2
1. Red Skies (Instrumental Version)
2. Way It s Always Been
3. Sleepwalker (Instrumental Version)
4. Leave Other People Alone
5. Marching Bag (26 Minute Original Version)
6. Wild Dogs (Acoustic Version)
7. From Another Time
Label: Cleopatra Records, Purple Pyramid Records
Hardrock Haven rating: 7/10