White Wizzard | The Devil's Cut
by Justin Gaines
– Senior Columnist/News Editor —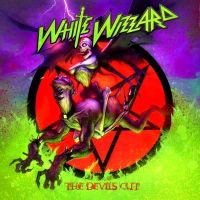 California-based traditional heavy metal warriors White Wizzard are back with a new album this year. The Devil's Cut is the band's third full-length album, and as with nearly all of their previous releases it features an almost totally new lineup. Founding bassist Jon Leon is of course on board, as is drummer Giovanni Gurst (who appeared on 2011's Flying Tigers). They are joined by guitarists Jake Dreyer and Will Wallner and vocalist Joseph Michael.
White Wizzard's essential sound is built on the classic heavy metal of Iron Maiden, Judas Priest and Dio, and that doesn't change at all here. What has changed – and for the better – is that the band sounds much tighter and more focused this time around. Not that Flying Tigers or Over the Top weren't enjoyable, but The Devil's Cut is the album that comes closest to the spirit of the High Speed GTO EP while showing real growth and polish. The songs are ridiculously catchy and melodic, the guitar work is just flashy enough to be a lot of fun, and the rhythms are tight as always. The vocals are what really stand out though. Joseph Michael is a relative newcomer, but he has a fantastic range and power, and a great presence live as well.
The Devil's Cut is a fairly brief album at just nine tracks (and one an instrumental intro), but it packs a big punch. "Strike the Iron" and "Kings of the Highway" are just fantastic heavy metal anthems, and start the album off right. "Steal Your Mind" kind of kills the momentum midway through, but the title track, and "Torpedo of Truth" (which is way more fun than its ridiculous lyrics would lead you to believe) put things back on track for the powerful "Storm Chaser" and "The Sun Also Rises" to end things on an epic note.
It's not a stretch to call The Devil's Cut the best White Wizzard full-length album to date. The band got everything right here, and the result is an album any fan of traditional heavy metal – whether old school bands like Maiden, Priest, Accept and Dio or more recent bands like Widow, Icarus Witch, Cauldron and yes Holy Grail – ought to love. Here's hoping this lineup sticks around. It will be great to see what they come up with next.
Genre: Heavy Metal, Traditional Metal
Band:
Jon Leon (b) (v)
Giovanni Durst (d)
Jake Dreyer (g)
Will Wallner (g)
Joseph Michael (v)
Track Listing:
1. Forging the Steel
2. Strike the Iron
3. Kings of the Highway
4. Lightning In My Hands
5. Steal Your Mind
6. The Devil's Cut
7. Torpedo of Truth
8. Storm Chaser
9. The Sun Also Rises
Label: Earache Records
Website: www.whitewizzardofficial.com
Hardrock Haven rating: 8.75/10