Black Label Society | Unblackened
by Alissa Ordabai
– Senior Columnist —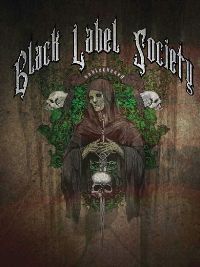 Zakk Wylde struck it double lucky when Ozzy hired him back in 1987. Not only was it one of the most prolific, best-paid gigs in rock, but the man whom Wylde to this day calls "Boss" was utterly unboastful, never letting himself or his musicians go on an ego trip. That, and Wylde's own sensibilities kept his feet on the ground. And where there is solid ground, there are roots. So traditional American music also remained a big part of Wylde's identity as a musician.
The DVD in hand reveals the depth of Wylde's tie to America with elegant poise. The live show filmed at Club Nokia in L.A. earlier this year features material from the Black Label Society catalog that Wylde himself describes as "slow songs" to distinguish them from ballads. Here the flashy virtuosity of heavy metal stands down to the downcast, broody feel of blues- and country-inspired songwriting themes. But when Wylde chooses to turn on his shred switch — as on standout "Throwin' It All Away" — the high-voltage frenzy reminds you that this rugged, bearded, deep-voiced caveman to this day remains one of the world's best guitar players.
From blistering fretboard blow-ups (which erupt at dizzyingly fast speed even when he plays an acoustic guitar) to his soulful piano playing, Wylde keeps the proceedings draped in a lucid, transparent vibe that the band keeps perfectly balanced. Guitarist Nick Catanese provides restrained support on the second guitar and solos flawlessly when called for. And although Wylde expressly avoids referring to the material as "ballads," a lot of those songs are, and the mood of the set remains decidedly romantic despite the self-possessed delivery.
Wylde's singing does borrow a lot of vocal mannerisms from Ozzy, but where Ozzy's voice climbs, Zakk remains firmly earth-bound – a conscious decision to bring out the contrast with the sky-bound melodies. And while Wylde may not be the most diverse or expressive singer, his solemn sincerity suites the material. The main draw of this release though is the intimate atmosphere that doesn't get much exposure at regular BLS shows. The song-oriented, melody-driven style shines a light on a lyrical side not only of Wylde, but of rock as a genre. With less and less ballads written by rock musicians these days, we can certainly do with such an injection of romanticism delivered so powerfully by one of rock's best artists.
Genre: Hard Rock, Heavy Metal
Track Listing:
1. Losin' Your Mind
2. The Blessed Hellride
3. Sold My Soul
4. Road Back Home
5. Spoke in the Wheel
6. House of Doom
7. Queen of Sorrow
8. Machine Gun Man
9. Sweet Jesus
10. In This River
11. Throwin' It All Away
12. Takillya (Estyabon)
13. Won't Find It Here
14. Rust
15. Speedball
16. I Thank You Child
17. Stillborn
Personnel:
Zakk Wylde – guitar, vocals, piano
Nick Catanese – guitar
John Deservio – bass, vocals
Chad Szeliga – drums
Derek Sherinian – keyboards, piano
Greg Locascio – vocals
Bonus Features:
Zakk Visits HM Prison Stocken (UK)
Interview
Losin' Your Mind Video
Photo Gallery
Label: Eagle Vision
Online: www.zakkwylde.com
Hardrock Haven rating: 8/10