Hard Rock Act "Paisty Jenny" Releases Ass Kickin' Single Produced by Sylvia Massy
Direct Hit Records has announced the release of a new single from Lincoln, Nebraska hard rock act Paisty Jenny. The band spent most of the spring in the studio in Weed, California churning out a new album with renown LA music producer Sylvia Massy (Tool, System of a Down, Sevendust). The hard rockin' single Criminalis a precursor to the new record. Due to officially drop on iTunes and Amazon on September 17, 2013, Criminal is not your typical ass kickin' song by this well-known – high energy regional rock act/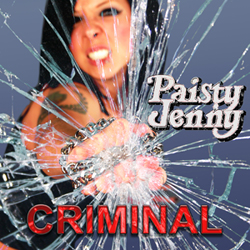 States Derric Miller of Hardrockhaven.net; "With Criminal, Paisty Jenny has stepped into the now with a HGH-laced anthemic song that bands like Shinedown and Nickelback have owned the modern rock airwaves with". If you love great rock n roll, founded on Aerosmith and Guns 'N' Roses but with a modern edge, Paisty Jenny is just what the doctor ordered. The band's new single, Criminal will put your speakers to the test and have you rocking out for days." States Tony Sison – The Dedicated Rocker Society/All Access Magazine. Another testament to the greatness of this stellar new single is it's qualification for submission to the 56th ™Grammy Awards in six categories. – Record of the Year (Single/Track) – Song of the Year (Single/Track) – Best New Artist (Single/Track/Album) – Best Rock Performance (Single/Track) – Best Metal Performance (Single/Track) – Best Rock Song (Single/Track).
Paisty Jenny has been touring regionally with many high profile rock acts throughout the Mid-West and will be embarking on a larger scale tour in support of the new single this fall. The complete album release date is still to be determined.
To follow this emerging hard rock act check out their official website at www.paistyjenny.com (http://www.paistyjenny.com/).
You can view the promotional video trailer here: https://www.youtube.com/watch?v=ZNTxnskI_xo (https://www.youtube.com/watch?v=ZNTxnskI_xo)