Joanne Shaw Taylor | Almost Always Never
by Alissa Ordabai
– Senior Columnist —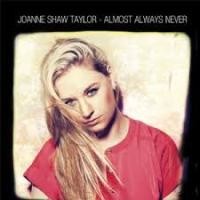 Having made a name for herself and won accolades in the blues and classic rock circles, Joanne Shaw Taylor now seeks to expand her identity with a stunning third album. Part of it is growing up, part – the innate draw of any true artist toward self-discovery. The record in hand may not run in the same surefire way as its brilliant blues-centered predecessors Diamonds and in the Dirt and White Sugar. But what remains are A-grade guitar chops, the rich, soulful voice breaking out straight from the heart, and songwriting that instantly pulls you in.
Standout "Jealousy" is an aching confessional delivered in vivid dark hues with an epic guitar solo moving a magnifying glass over a broken heart – another proof that great chops serve a purpose only when conveying an inner truth. But the biggest gem of the release is the title track – a slow-mo trip through an accurately painted inner landscape where the self is at its most bare, and for that very reason — utterly mysterious.
Still, with all the inner depth Taylor taps into here, each track remains completely accessible. The effortless gait of her songwriting stays so fluid that even the most thorough journeys come through transparent and immediate. At times Shaw aims at a more universally appealing sound than her previous albums, but in stepping away from the blues patterns she gains self-knowledge — a prize of a higher order than unconditional approval bestowed by the tradition.
Taylor's songwriting begins to stand out sharper too – laconic and purposeful, in organic unity with her feel for her instrument. The guitar though remains her main nerve, her lifeblood artery, and also her device of flight that takes her beyond the physicality of technique. From gritty, earthbound blues on "Soul Station" to layered, delicately tuneful "Beautifully Broken" Taylor remains an exceptional player who can unite stellar musicianship with deeply personal – and therefore eternal – narratives.
Genre: Blues, Rock, Classic Rock
Track Listing:
1. Soul Station
2. Beautifully Broken
3. You Should Stay, I Should Go
4. Piece of the Sky
5. Army of One
6. Jealousy
7. Almost Always Never
8. Tied and Bound
9. A Hand in Love
10. Standing to Fall
11. Maybe Tomorrow
12. Lose Myself to Loving You
Label: RUF RECORDS
Online: joanneshawtaylor.com
Hardrock Haven rating: 10/10