Knightmare | In Death's Shadow
by Justin Gaines
– Senior Columnist/News Editor —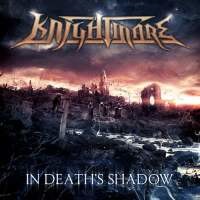 Here's one that slipped by us at the tail end of 2012 and deserves another look. In Death's Shadow is the debut full-length from Melbourne-based heavy metal band Knightmare. Despite having a name that's as overused as it is cheesy, Knightmare strikes a perfect balance between power and progressive metal, with elements of thrash and traditional metal as well – think Tad Morose meets Evergrey, which isn't a bad thing by any means.
This is one of those albums you can't help but underestimate going in. Whether it's the band name or the fact that it's an independently released album or that they're a power metal band that's not from Europe, you don't expect an album like this to blow you away from the very start. That's exactly what In Death's Shadow does though. At first it's the sheer heaviness that hits you, but in short order you appreciate everything Knightmare brings together here, pairing that heaviness with the kind of melody and grandeur you expect from a power metal band, plus drumming worthy of a technical death metal band and hugely powerful vocals. This is power metal without the cheese and progressive metal without the self-indulgence. And if that isn't enough, In Death's Shadow has a production job and layouts worthy of any major (metal) label release.
There are only seven songs on In Death's Shadow, but they're all fairly lengthy tracks. The strongest songs are right in the middle. "False Prophets," "Apocalypse" and "Knightmare" are just fantastic heavy power metal songs that are guaranteed to get heads banging. "Unity Through Chaos" is another standout, sounding a lot like something Iced Earth might have come up with back in the late '90s. Ending the album with an instrumental song, especially a 10-minute one, seems like an odd choice. Parking it just before the end so we could get one more chance to hear Mick "MickoWar" Simpson screaming for vengeance before the album closed would have made more sense, but that's a minor gripe.
In Death's Shadow is an extremely strong debut by a band with a tremendous amount of potential. If you're a fan of progressive/power metal bands on the heavier end of the spectrum (like Evergrey, Tad Morose, Iced Earth, Sanctuary and Mercenary), Knightmare is a band you'd do well to check out. It's easily one of the strongest independent releases in this genre in quite some time, and outshines a fair number of major label releases too.
Genre: Power Metal, Heavy Metal, Progressive Metal
Band:
Mick Simpson (v)
Luke Besley (g)
James Munro (g)
Matt McConaghy (b)
Track Listing:
1. Cazador de Hombres
2. Granted Death
3. False Prophets
4. Apocalypse
5. Knightmare
6. Unity Through Chaos
7. Judgment
Website: www.knightmaremetal.com
Hardrock Haven rating: 8.75/10