by Anabel Dflux
– Senior Photojournalist —
October 22, 2013 at the Fonda Theater in Hollywood, CA. —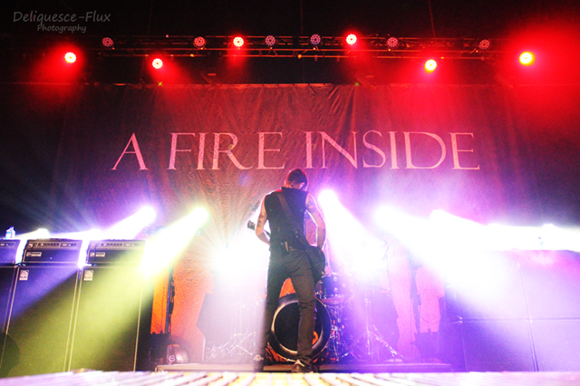 One of the most iconic bands of this day and age found their way to Los Angeles on October 22nd. Supporting the release of their newest album Burials (that happened to have been let loose on store shelves the very day of the show), A Fire Inside played to a completely sold out Henry Fonda Theatre in Hollywood. Fans lined up many hours prior, anxiously awaiting a show marked as one of the most anticipated performances here.
The concert was absolutely electrifying, thrilling, and one of the most energetic performances to have hit the city. From the very first note, the stage burst into light and vocalist Davey Havok, bassist Hunter Burgan, and guitarist Jade Pudget leaped into the air so strikingly that the mood was permanently set for the night. Drummer Adam Carson kept the beat with such adrenaline that one couldn't help but be influenced by its powerful sound. The constant movement, dramatic leaps and falls, and intense stage presence and brilliant crowd interaction are all classic trademarks of this theatrical band- bringing flair back to performance. Each member played with conviction, a very well deserved confidence.
The set list combined the band's hits with newer material off Burials, a pleasant mixture. Each song rolled into the next in harmony. The entire theater sang in unison, backing Havok's excitable vocals. The band debut "A Deep Slow Panic" for the first time live, and the audience ate it up like there was no tomorrow.
With 20 years under AFI's belt, it is no surprise that their concerts are so memorable. This is what bands should be like; this is how rockstars need to engage on the stage. AFI is responsible for musicians upping their game in the modern era, and this album release show definitely showed the world that they've still got it!
Members:
Davey Havok – Vocals
Adam Carson – Drums
Jade Pudget – Guitars
Hunter Burgan – Bass
Set List:
1. The Leaving Song Pt. II
2. Girl's Not Grey
3. I Hope You Suffer
4. Wester
5. Love Like Winter
6. Ever and a Day
7. 17 Crimes
8. Over Exposure
9. The Leaving Song
10. The Conductor
11. Kill Caustic
12. Bleed Black
13. A Deep Slow Panic (Live Debut)
14. Miss Murder
15. The Days of the Phoenix
16. God Called in Sick Today
Encore:
17. Just Like Heaven (The Cure cover)
18. Dancing Through Sunday
19. Silver and Cold
LIVE! | A Fire Inside Concert Photo Gallery