by Deb Rao
– Senior Columnist —
October 2, 2013 at Henderson Pavillon in Henderson, NV. —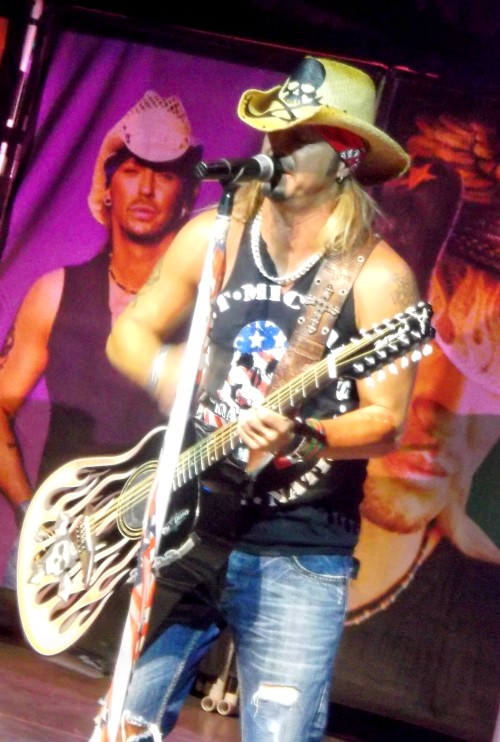 Poison front man and reality television star Bret Michaels rocked Henderson Pavilion on Oct. 2. The outdoor arena has perfect acoustics and was an awesome venue for the '80s star to perform with his solo band. Bret hit the stage at 8 p.m. for a dynamic show that featured all of the Poison hits plus songs off of Bret's latest release Jammin With Friends. It has been a busy year for the '80s star, as he also is on the new hit reality show Rock My RV on the Travel channel.
Bret's solo band features Pete Evick on guitar, Dirty Ray on bass, Lucky Chucky on drums and Robi Wylde on keyboards. The great thing about the band is that they are there to play. There are no pryo-techniques or extreme stage settings. It is all about the music. All of the musicians on stage have a blast and play their heart out.
Bret hit the stage at 8 p.m. and encouraged everyone to come on down in front of the stage. He brought all of the people in the bleacher seats down front. That is the only way to enjoy a concert. Bret kicked off the show with "Talk Dirty To Me", and then jumped right into "Look What The Cat Dragged In."
Bret was a ball of energy. It was great seeing him look really healthy. Bret is a diabetic and has to give himself six shots a day. It is amazing that he always gives 100 percent on stage. He pulled out the harmonica for a little blues on "Your Mama Don't Dance." The singer also showcased his country roots on "Sweet Home Alabama." Perhaps the most poignant moment of the evening was the acoustic song "Something To Believe In." Bret dedicated this song to all of the men and women in the Armed Forces. Actually a Marine bought Bret's acoustic guitar at the auction for diabetes at the end of the show.
Lucky Chucky performed a drum solo after "Unskinny Bop." Bret also performed new song "What I Got", which is a Sublime hit and new remake of "Every Rose Has Its Thorn." The concert ended on a high note with Poison hits "Fallen Angel", and "Nothing But A Good Time." It was great seeing Bret perform with his solo band. After the show I asked him what it is was like performing with Joe Perry on his new solo album and remake of "Every Rose Has Its Thorn," Bret commented, "It was amazing. He is one of my idols. I have the best of both worlds with my solo career and Poison." The concert got over early, and I headed out to cover Saxon at Vamp'd. Another great night of music in Las Vegas.
Set List:
Talk Dirty To Me
Look What The Cat Dragged In
Your Mama Don't Dance
Something To Believe In
Sweet Home Alabama
Unskinny Bop
Drum Solo
What I Got
Every Rose Has Its Thorn
Fallen Angel
Nothing But A Good Time