LIVE! | Bullet For My Valentine
by Jonna Ambur
– Senior Photojournalist —
October 19, 2013 at Oakdale Theater in Wallingford, CT. —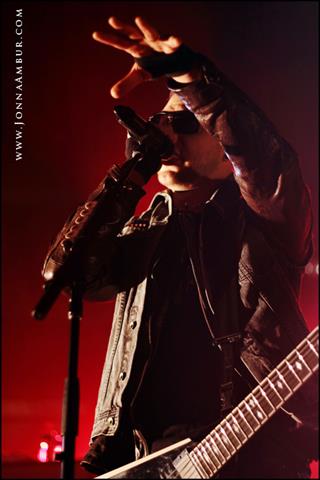 Bullet For My Valentine is touring the states and tonight they were playing in Connecticut. A general admission show in the Dome led to a very personal performance of a few thousand screaming dedicated fans! In support of their newest release, Temper Temper, they played new songs; "Breaking Point," "Dirty Little Secret," "Riot" and "Temper Temper." They completed a near hour and a half set with hits from their previous albums such as "The Last Fight," "Waking the Demon," "Your Betrayal," "4 Words," "The Poison," "Scream, Aim, Fire," "Alone" and "Tears Don't Fall."
Bullet For My Valentine is: Matthew Tuck (vocals/guitar); Michael Paget (guitar); Michael Thomas (drums); Jason James (bass).
Supporting B4MV on their tour that will continue to November are Black Veil Brides, Stars in Stereo and Throw The Fight.
Throw The Fight has two-full length albums and three EPs under their belt, the most recent being, The Vault, that was released this year.
Stars in Stereo is new to the metal scene and is celebrating a debut release, Stars in Stereo, that dropped in April of 2013.
Both bands, while newer to the scene are definitely bands to watch for. If they play in your town it'll be well worth the ticket price!!
Black Veil Brides released Wretched and Divine: The Story off the Wild Ones this year and will continue touring into the new year.
Their remaining tour dates for Bullet For My Valentine are listed below:
10/24, Myrtle Beach, SC, House of Blues
10/25, Orlando, FL, UFC Arena
10/26, Tampa Bay, FL, The MidFlorida Amphitheatre
10/28, Atlanta, GA, Tabernacle
10/29, Charlotte, NC, The Fillmore
10/30, Norfolk, VA, Norva Theatre
11/1, Hampton Beach, NH, Hampton Beach Casino
11/2, Montreal, QUE, Metropolis
11/3, Portland, ME, State Theater
Starting in December B4MV will head out to the UK for several dates with Asking Alexandria and Young Guns.
LIVE! | Bullet For My Valentine Concert Photo Gallery