LIVE! | Five Finger Death Punch
by Jonna Ambur
– Senior Photojournalist —
October 12, 2013 at Best Buy Theater in New York City, NY. —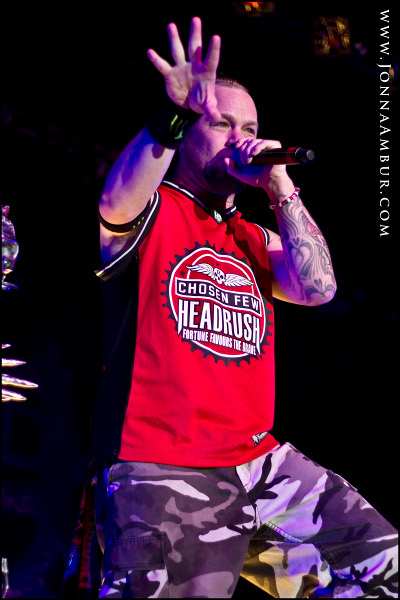 Two words … SOLD OUT! Playing small clubs in support of their newest release The Wrong Side of Heaven and the Righteous Side of Hell, Volume 1, Five Finger Death Punch sold out the Best Buy Theater. Fans waiting to get in, lined the streets that went around the block and through the busy New York streets. Playing favorites from their three previous albums and sprinkling in a few off their Volume 1 record, they blew the roof off the club!! A touching moment of the night was when Ivan paused to talk about the bracelet his daughter made him. She said that he was welcomed to share it with a fan if he didn't like. While he clearly stated that he "really fuckin' likes it," he tossed to a lucky person near the rail. Fans need to watch for The Wrong Side of Heaven and the Righteous Side of Hell, Volume 2, which will drop on November 19. Ivan (vocals), Jeremy (drums), Chris (bass), Jason (guitar), Zoltan (guitar) are Five Finger Death Punch … a band that can put on killer live show, record an epic album only to be matched by an epic double album!
The remainder of the US tour is as follows:
OCT 17 – Bossier City, LA – CenturyLink Arena
OCT 18 – Tulsa, OK – Brady Theater
OCT 19 – Kansas City, MO – Midland Theater
OCT 20 – Springfield, MO – Midland Theater
OCT 22 – Corpus Christi, TX – Concrete Street Pavilion
OCT 23 – Pharr, TX – Pharr Event Center
OCT 25 – Dallas, TX – Verizon Theatre at Grand Prairie
Throughout November 7 and March 3, 2014, Avenged Sevenfold joins Death Punch in Europe and Australia with a break for Shiprocked in January 2014. No rest for the wicked!!
The Best Buy in NYC was a great place to see this show. It was an honor to have a band like Five Finger Death Punch at the venue at this stage of their career and to share the stage with such amazing supporting bands was a gift to metal fans.
Supporting Five Finger Death Punch in New York was Escape the Fate, Miss May I and Gemini Syndrome. All three bands were a great match for the tour. There wasn't much down time for the audience. Crowd surfing, moshing, belting out the songs; only a quick 20 minutes to rehydrate and it was right back to the floor!
Escape the Fate Discography
Dying Is Your Latest Fashion (2006)
This War Is Ours (2008)
Escape the Fate (2010)
Ungrateful (2013)
Miss May I Discography
Apologies Are For the Weak (2009)
Monument (2010)
At Heart (2012)
Gemini Syndrome Discography
Lux (2013)
Sadly, as of November 17th, Escape the Fate will no longer be on the bill. Due to a family emergency they had to drop off the tour. They will be missed.
LIVE! | Five Finger Death Punch with Escape The Fate Concert Photo Gallery