by Anabel Dflux
– Senior Photojournalist —
October 18, 2013 at House of Blues in Hollywood, CA. —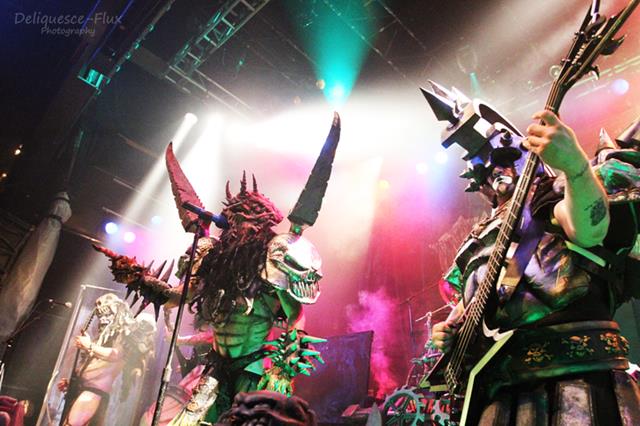 One of the most uniquely characterized and memorable bands to hit the face of the music scene barged its way into the House of Blues Hollywood on October 18th, 2013. Satirical metal band GWAR reminded us all that combining dark humor with music can be a rather joyous partnership, and if anything, provides a live concert experience like never before.
Although the audience may not have seen how tedious the stage set up was, we photographers got a sneak preview of just what was going on behind the curtain- from wrapping all of the sound equipment in plastic to dragging in oversized props and unique stage equipment, the crowd goers were in for a treat. GWAR fans showed up wearing dashing white, excited to end the night covered in red. Followers of the band know what is being noted here!
Before the music began to play, an animated GWAR- short was projected unto the large HOB screen in front of the stage, setting the mood for the night. As the animated comedy ended, the band came on stage. Dressed in large costume and adorned with a variety of weapon props, each member plays an iconic, individualized character that plays into the folklore that the band mates created for themselves. Alongside the band mates, other costumed personalities often ran out onto the stage to create a whole demonic-Broadway sitcom that the fans absolutely loved. From taunting the Queen and the royal baby, to the definition of a 'perfect woman', so many odd and strange- yet wrongfully hilariously- moments were present throughout the entire performance.
Musically, GWAR is an exceptionally talented bunch, and the band members mesh with each other wonderfully. The music is heavy, loud, and all things metal should be! It is of no wonder that the show was completely sold out.
Members:
Oderus Urungus – Vocals
Balsac the Jaws of Death – Guitar
Pustulus Maximus – Guitar
Jizmack da Gusha – Drums
Beefcake the Mighty – Bass
www.GWAR.net
www.Facebook.com/GWAR
LIVE! | GWAR Concert Photo Gallery