by Matt Karpe
– Columnist —
October 5, 2013 at Rock City, Nottingham UK —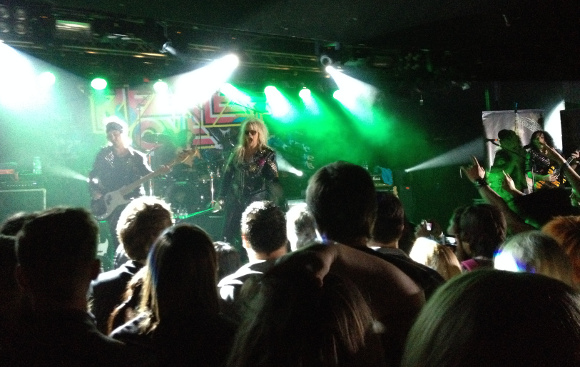 In support of their recently released third studio album Spirit, Finland's new heroes Reckless Love hit the UK for a series of shows full of fun and high octane glam metal.
Support act Laura Wilde started the party with her passionate hard rock anthems taken from her debut album Sold My Soul. The Aussie sweetheart and her excellent band roared through tracks such as "Show Me Love", "Angel" and the edgy ballad "For You" before playing a well-received cover of AC/DC's "Jailbreak".
The temperature rose for the main attraction as Olli Herman and co hit the stage to their now familiar intro of "The Boys Are Back In Town" before breaking into opener "So Happy I Could Die," sending the crowd into rapture. "Bad Lovin'" followed in rip-roaring fashion.
The Reckless ones then revisited their first two albums with songs such as "On The Radio," "Born To Break Your Heart" and "Beautiful Bomb" which again went down well with the audience.
With such a lively and vocal crowd, Olli couldn't help but smile throughout, looking proud as his dedicated fans screamed his lyrics straight back at him again and again, song after song.
The tracks from Spirit were the standouts, with highlights being "Dying To Live," "Sex, Drugs & Reckless Love" and the Europop wonder of "Night On Fire."
The boys returned for an encore of "Animal Attraction," "Hot" and the Mötley-esque "Metal Ass," ending a phenomenal show.
Be sure to check out Reckless Love live sometime soon because right now, they are at the top of their game and damn they've got some "spirit."
Members:
Olli Herman- Vocals
Pepe Reckless- Guitar
Jalle Verne- Bass
Hessu Maxx- Drums
Set List:
So Happy I Could Die
Bad Lovin'
On The Radio
Born To Break Your Heart
Beautiful Bomb
Dying To Live
Edge Of Our Dreams
I Love Heavy Metal
Runaway Love
Sex, Drugs & Reckless Love
Wild Touch
Night On Fire
Animal Attraction
Hot
Metal Ass
Online: www.recklesslove.com
Laura Wilde Set List:
Show Me Love
Angel
Scarlett Woman
For You
I Love This City
Jailbreak (AC/DC Cover)
Sold My Soul
Tragedy