LIVE! | Reckless Love with Laura Wylde
by Emma Jenkins
– Columnist —
October 5, 2013 at The Rock City in Nottingham, U.K. —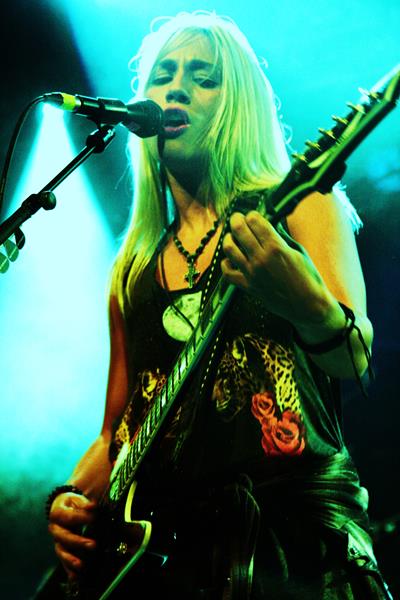 Tonight's opening act was Aussie relocated to L.A. Laura Wilde, a feisty female singer with surfer chick good looks. She very quickly got the support of the crowd with her enthusiasm and solid performance. With songs like 'I love this city' and 'Sold my soul' she certainly showed the crowd how to rock out.
However it was the boys from Finland that the crowd had some to see and from the very first moment that Oli, Pepe, Hessu & Jalle bounded onto stage to the 'Boys are Back in town' you could tell that these guys were ready to party. Reckless Love launched directly into 'So happy I could die' and Rock City suddenly seemed alight from the energy created and flowing from the band but in particular singer Olli Herman. This powerful opening was followed by 'Bad Lovin' and then onto more familiar territory of 'On the Radio', 'Born to Break your heart' and crowd pleaser 'Beautiful Bomb.'
The set was peppered by Olli's interaction with the crowd. Saturday night was a drinking night and it had been a year too long away from Nottingham. The crowd agreed and treated the band like long lost friends making the most of every single moment and singing along to every track with no encouragement needed.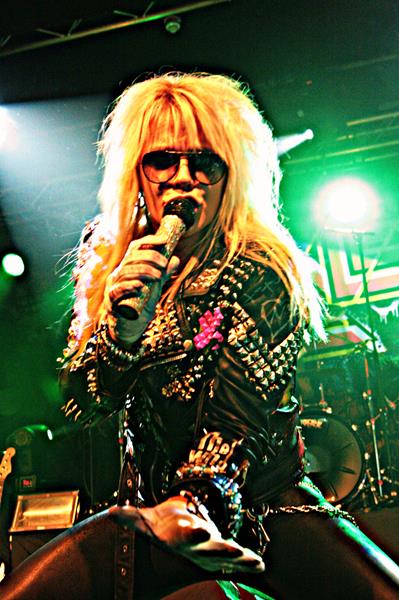 The majority of the set consisted of songs from their cracking new album 'Sprit' and I'd say from the contribution of the crowd, the majority seemed to not only own said album but wholeheartedly approve of it. The band brought their set to close with 'Runaway Love' which led nicely to 'Sex, drugs & reckless love' (the solution to fallout from Runaway Love according to Oli), and finally ending with the explosive 'Night on Fire'.
Several cat calls later and the band reappeared on stage. Olli claimed not to be able to hear the crowd and made them shout louder for the encore. Shout they did and 'Animal Attraction' and the very rousing and possibly anthemic 'Hot' were played. These boys know how to play party rock and filled Rock City with a feeling of fun. joyful vibes and feel good music. Of course, Olli knows how to work the crowd and his toned physique and pretty boy good looks certainly didn't hinder the performance especially when he stripped down to his bare chest. However it wasn't the pretty boy looks that carried the band tonight but the music, and the music was excellent. It made me feel transported back to the hey day of glam metal. The band had an aura and a presence that could have filled an arena but a set that was only 1 hour, 15 mins just seemed too short. Reckless Love brought the fun back to Rock music without being a parody or a cliché and after having seen them, I couldn't help but have a massive smile on my face. They certainly set my Night on Fire!
Reckless Love with Laura Wylde Concert Photo Gallery
[Photos appear courtesy of Jadranka Jade]