by Craig Newman
– Columnist —
October 4, 2013 at the House of Blues in Los Angeles, CA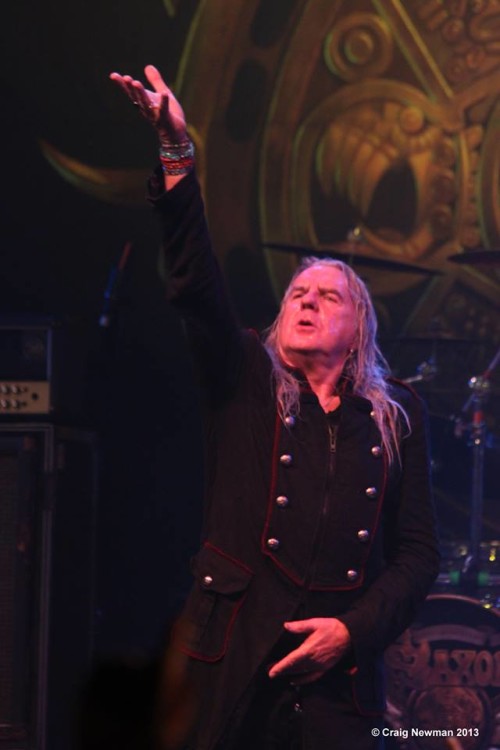 Saxon formed in 1976 in Barnsley, Yorkshire named as Son of A Bitch. They changed their name to Saxon and being influential during the New Wave of British Heavy Metal they had huge success in the 1980s with eight UK Top 40 albums including four UK Top 10 albums. Saxon also had numerous singles in the Top 20 singles chart. Between 1980 and 1987 Saxon established themselves as one of Europe's biggest metal acts, and is considered a cult band in the USA, which should not be at all!
Saxon has 29 albums including the current Sacrifice and have been very influential to metal music for over 30 years. Their songs of history such as President Kennedys shooting death, the Apollo moon landing and battles between the Norseman, Saxons and Saracens on religion and territory takeovers from different tribes and/or clans which are in some areas still happening.
On Oct. 4 the show from the Denim and Leather veterans of heavy metal thunder returned to Los Angeles at the House of Blues for support of their current album; over 30 years ago they performed at the Whiskey a Go- Go on the Sunset Strip.
Opening the show with the title song from the current album, the next song was "Red Line". The 90-minute show was nonstop from beginning to end performing some of the songs were: "Power and the Glory", "Dogs of War", "Wheels of Steel", "Dallas 1 PM ", "Heavy Metal Thunder", "Never Surrender" "Made in Belfast", "Motorcycle Man" "Night of the Wolf", "Rock and Roll Gypsy" which FOZZY vocalist Chris Jericho came on stage to sing with band. Also performed were "Sailing to America", "This Town Rocks", "Crusader", and "Princess of the Night". They have could have played so much more of their songs but there was not enough time. They still have the energy and sound as they did 40 years ago.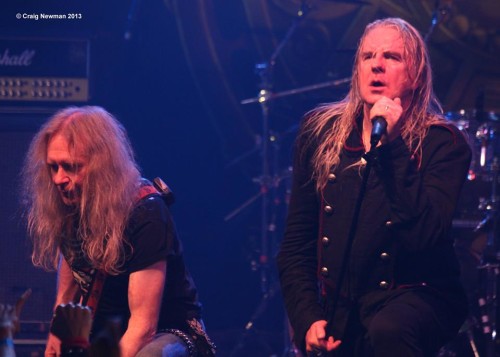 Opening the show is FOZZY who are on tour with Saxon who gave an energetic performance, along with Halcyon Way who are from Atlanta, Ga.
Saxon's music of metal anthems, their history and overall experience have and will influence other metal and hard rock bands for generations.