LIVE! | SAXON in Las Vegas
by Deb Rao
– Senior Columnist —
October 2, 2013 at Vamp'd in Las Vegas, NV. —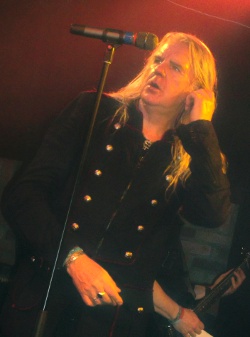 Heavy metal band Saxon is currently on tour and made a special stop in Las Vegas at Vamp'd on Oct. 2. It has been two years since the band performed in Vegas and metal fans were in for non-stop metal blitz of hits and new material from their latest release Sacrifice.
Saxon hit the stage at 11 p.m. opening with Sacrifice. The band performed many new songs from their latest release in their two-hour concert. Lead singer Biff Byford has a very powerful voice and you could tell he was happy to be in Las Vegas. Biff commented the band has been on the road for two weeks and happy to be staying in Cesears Palace tonight. I was really impressed by the lead riff trade-offs between guitarist Paul Quinn and Doug Scarratt.
The new material was very well received. It is an amazing that Saxon has been around so long and possibly just released one of their best albums to date. The new material is melodic yet heavy encompassed with killer guitar riffs.
Highlights of the set included "Heavy Metal Thunder," "The Eagle Has Landed" and "Made In Belfast." Saxon performs to huge crowds in Europe and it was great to see the big crowd that turned out for the band on a Wednesday night in Vegas. The band performed as if they were at Donnington. Saxon took us back to the start of it all with "Denim And Leather." Drummer Nigel Glockler was a powerhouse. Be sure to check out our interview right here at Hardrock Haven. Saxon ended the night with "Crusader."
Set List:
Sacrifice
Power And Glory
Night Of The Wolf
This Town Rocks
Made In Belfast
Never Surrender
Heavy Metal Thunder
The Eagle Has Landed
Dogs Of War
Motorcycle Man
Rock N' Roll Gypsy
Guardians Of The Tomb
Dallas 1 P.M.
Denim and Leather
Wheels Of Steel
Crusader