LIVE! | Trivium with DevilDriver
by Jonna Ambur
– Senior Photojournalist —
SEPTEMBER 29, 2013 at TOAD'S PLACE in NEW HAVEN, CT. —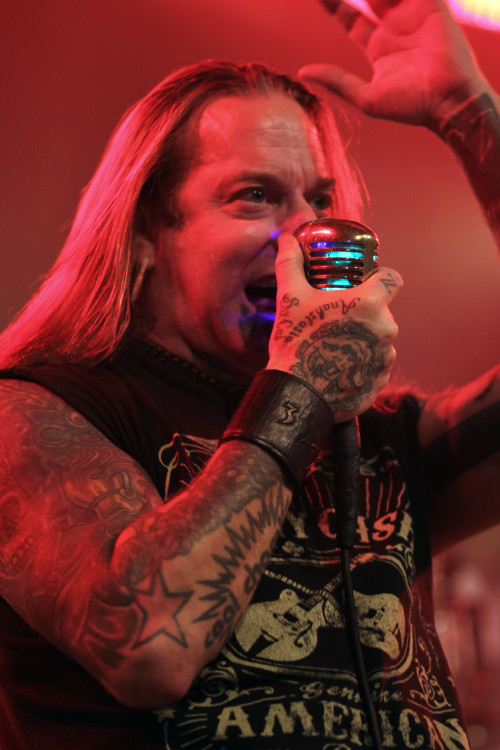 California's own DevilDriver was met by a packed club eagerly awaiting their arrival. Touring in support of their newest release Winter Kills, the band's sixth album was released in August of 2013. With dark and animalistic grooves and true metal attitude, the band gave an amazing performance. Vocalist, Dez Fafara, formerly of Coal Chamber, knows how to keep a crowd interacting with them. Supported by Mike Spreitzer, guitar; Jeff Kendrick, guitar and John Boecklin, drums, DevilDriver's hour-long set was packed with hard and heavy sound and sheer balls from beginning to end.
Trivum was the headliner of the night. Touring to support Vengeance Falls, which is due out Oct. 15, New Haven was a stop on a schedule that is set to go through mid-December. Frontman Matt Heafy commanded the stage from the sound of the first bone crunching note. Corey Beaulieu, guitar; Paolo Gregoletto, bass and Nick Augusto, drums complete the metal band from Florida. Already having five albums under their belt, Vengeance Falls is a bit heavier and harder but will all the same amazing musicianship. Trivium's flawless performance is not one to miss!
Sylosis was scheduled to be on roster, however due to a car accident they had to drop off the tour. Thankfully the band is on the mend.
Trivium with DevilDriver Concert Photo Gallery
%%wppa%% %%slide=4%% %%align=center%%