New Day Dawn | Rise Above This
by Joe Mis
– Senior Columnist —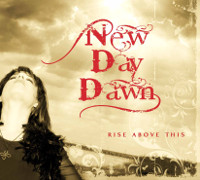 Rise Above This is the latest EP release from New Jersey's New Day Dawn, and the group not only brings it with tons of Jersey sass and attitude, but a good deal of raw musical talent as well. Despite considering themselves to be "alternative rock", their music also features a strong blues-rock undertone – a winning combination for music fans who appreciate either genre.
New Day Dawn is fronted by singer/guitarist Dawn Botti. She has a strong and gritty voice that is well suited for the bluesy tracks, but her stylistic range is broad enough that she can handle softer or punchier tracks as well. Dawn is a passionate singer, and her love of music shows clearly throughout the album. The band itself was founded in 2006, and released their first full length album, The Company We Keep, in 2008. Botti is joined by drummer Gary Szczecina, guitarist PJ Angeloni, and bassist Elo Hernandez, and they make a formidable quartet. They also bring some industry muscle with them – platinum-selling songwriter/guitarist Chris Henderson (3 Doors Down) produced 3 songs, and John Moyer (Disturbed, Adrenaline Mob) produced 2.
"You Are My Everything" starts off the EP on a nice mellow note. It is a good mid-tempo rocker with soft verses and a big chorus that gives Botti a chance to visit all areas of her vocal range. Soft acoustic guitars and almost folk-rock style vocals open "Lay Your Head" before a great drum line kicks in to carry the song home, intensifying the rhythm line as it goes. Again, this one is a nicely constructed song with a simple set of verses and a dynamic chorus. "Life Impossible" is an introspective, up-tempo rocker with a very kicky rhythm line, a great bass line, and an energetic delivery from all. Botti does seem to hit the upper edge of her vocal range, but doesn't exceed it. "Whatever It Takes" has a truly awesome bass line and features great coordination between bass and drums. The track settles into a wonderfully smoky groove, and is arguably the best track on the EP. "Runaway" also has an intricate bass line, complex drums, and a more "alternative" tone overall – a technically ambitious track that fully displays all the good things about New Day Dawn.
Rise Above This is a pleasant listen overall. There is only a single issue with the recording, and it is a simple one. If you listen carefully, you can hear a slight inconsistency in the songs, enough to tell you that the songs were recorded and produced in two locations and by different people. Neither one is a bad mix at all, just different. Otherwise, the instruments are all nicely balanced, and Botti's vocals are always given a chance to shine. The songs are all well written, and the musical delivery on all fronts is spot on.
If you are looking for good rock, plain and simple, then New Day Dawn's Rise Above This is for you. The music, blending old school rock with touches of modern alternative, is unpretentious and definitely fun resulting in an EP that is a real toe-tapper! Rise Above This proves New Day Dawn to be a band to watch. Highly recommended!
Genre: Alternative Rock
Band:
Dawn Botti (voclas, guitar)
Gary Szczecina (drums)
PJ Angeloni (guitar)
Elo Hernandez (bass)
Additional Musicians: Greg Upchurch (drums), Bobby Capps (keys), Jake Roile (gutars), Kim Lee (bass) on tracks 1, 2, & 5; John Moyer (guitars, keys) on tracks 3 & 4.
Track Listing:
1. You Are My Everything
2. Lay Your Head
3. Life Impossible
4. Whatever It Takes
5. Runaway
Label: Botti Parts Music LLC
Website: www.reverbnation.com/newdaydawn, https://www.facebook.com/NewDayDawn
Hardrock Haven rating: 8/10