Restrayned | Dark New Day
by Matt Karpe
– Columnist —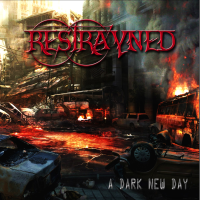 Sacramento four-piece Restrayned play a combination of hard rock and melodic metal, which works well in some instances, but in others it lacks the muscle to make any serious waves in a genre containing many more accomplished acts.
Sacramento's favorite sons are Deftones, but Restrayned aren't as arty or progressive as Chino's clan, as they instead focus solely on heavy thrashing guitars and drumbeats to make songs that are straight to the point, and not a million miles away from the more radio friendly moments of Five Finger Death Punch and Killswitch Engage.
"Breaking Down" is a fast paced start to Dark New Day, with heavy modern metal guitar riffs from Johnny Rowland and Tony Musallam, a heavy bass tone from Jimmy Tuttle and some good speed drumming from Mark Sprague. Musically, this is a very talented bunch, but the problem comes, and continues throughout, in the form of the vocals. The dual vocals from all band members works well, but the lead vocals fall slightly short. Don't get me wrong, Rowland has a great singing voice, and that is on show in the verses. He has good harmony and is fairly similar to Bruce Dickinson especially, but when the choruses kick in, and you need the volume turned up a notch or two, his voice seems to lack the aggression and range to add that emphatic finale.
"Some Will Be Saved" and "Rescue Me" are in the same mold, with well-constructed guitar rhythms that help the verses flow well, but when the chorus takes over, the consistent vocal tones stop the songs from progressing, giving the listener the feeling that things just meander along in a fruitless fashion.
The highlights come in the forms of "Last Time" and "Show Me". These are the two songs that show what Restrayned are capable of. Great verses both musically and lyrically, they are upstaged by emotional choruses that are catchy and effective; choruses that could help sell Restrayned to a wider audience. The drumming is enormous and the guitar and bass work hits all the right spots, but unfortunately these are rare occurrences on an album that has enough time to excel, but ultimately falters all too often.
Restrayned have a good pitch, but whether they can sell their product is the real question.
Instrumentally they have IT, with good guitarists and a dominating drummer, and yes the vocals are strong, but something needs to develop to make the songs that little bit more appealing. When they start making songs of consistent quality, with choruses that you will hear on the radio and think "I like the sound of these guys" then that is when Restrayned can enter the big league and it will be a 'bright new day' for them.
Genre: Hard Rock, Melodic Metal
Band:
Johnny Rowland- Vocals/Guitar
Tony Musallam- Guitar/Vocals
Mark Sprague- Drums/Vocals
Jimmy Tuttle- Bass/Vocals
Track Listing:
1. A Dark New Day (Intro)
2. Breaking Down
3. Some Will Be Saved
4. Rescue Me
5. The Chase
6. No Sorrow
7. Remember
8. Follow Me Down
9. Pry
10. Walk Through The Fire
11. Last Time
12. Rise Again
13. Show Me
14. Sins Of Me
15. Denying The Demons
Record Label: Unsigned
Website: www.restrayned.com
Hardrock Haven Rating: 6.8/10