Richie Scarlet | I Plead The Fifth
by John Kindred
– Publisher —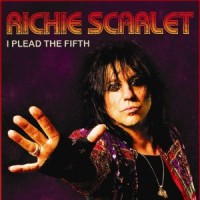 Aramis Records revisits Richie Scarlet's 2012 I Plead The Fifth by re-releasing the studio effort on vinyl. The LP has been pressed on 180g red vinyl and is a limited-edition run of 500 copies. The album contains the same track listing and is being distributed by URP Music Distributors.
Scarlet, who has been dubbed by his peers as the "Emperor of Rock and Roll," has worked with Ace Frehley, Peter Criss, Sebastian Bach, Mountain and members of Alice Cooper's band. It should come as no surprise that I Plead the Fifth features several guest musicians, including John Regan, Dez Cadena (Misfits), Michael Klvana, Arno Hecht, Dennis Dunaway (Alice Cooper), Ron "Bumblefoot" Thal and Joey Molland.
I Plead the Fifth was produced, recorded, engineered and mixed by Tarik Solangi at Prime Time Studios in Mount Vernon, N.Y. The album contains nine songs and runs the gambit from hard rock to '80s-style ballads and most certainly tips its hat to '70s glam rock. For the most part, Scarlet delivers quality, if not pompous, rockers.
The hard rock tunes are fueled with melody, sing-a-long-choruses and driving rhythmic progressions. The opening song "Lips Like Morphine" gets the ball rolling and is a song that would be right at home on an Alice Cooper record. The momentum continues with "Burning Through Life" a whimsical rock 'n' roll romp. "I Don't Wanna Die" hits with a punkish vibe and a very hook-driven chorus. Of the two ballads, "Love Will Find a Way" and "Lost in My World," "Love" suffers from moments of cheesy lyrics, while "Lost" begs for lighters to be held high. The only questionable song, if you want to call it that, is the James Brown cover of "King Heroin." The album harbors one instrumental song "Carousel," which opens with a prog-keys and moves into a '70s-style rock groove. The instrumental eventually combines shredding guitar and prog-keys, taking turns at soloing before it crescendos into a Frehley-like chromatic rhythmic climb (Kiss "Escape From the Island" – The Elder) that finally wraps up with heavy guitars and keys swirling around each other.
This "re-release" will appeal to diehard Richie Scarlet fans who are into the resurgence of vinyl. In all, Scarlett delivers a nice collection of rock songs that deserve to be played on 11.
Genre: Hard Rock
Band:
Richie Scarlett – Guitars, Bass and Vocals
Russ Wilson – drums
Peter Gallinari – keyboards
Track Listing:
1. Lips Like Morphine
2. Burning Through Life
3. Love Will Find A Way
4. I Don't Wanna Die
5. Lost In My World
6. Without Your Love
7. Indian Souls (1876)
8. King Heroin
9. Carousel
Label: Aramis Records
Web: http://www.richiescarletmusic.com/
Hardrock Haven rating: 8/10
OFFICIAL VIDEO 'Without Your Love':