by Nikiforos Skoumas
– Columnist —
Farraday is a Greek-based melodic rock duo who has just put out its debut album Shades of Love on AOR Heaven records. In short what the melodic rock fan needs to know is that Farraday is doing AOR really old-school. Yes it is melodic, yes it is nostalgic and yes it has every potential to make a great name for itself. We contacted singer Roy DaVis and asked a few questions that put their debut album Shade of Love perfectly in context.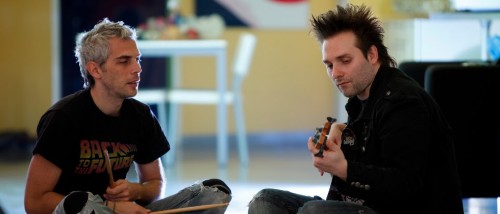 Hardrock Haven: Well, the obvious question we have to get out of the way is how did Farraday come to be, and why was the summer of 2013 the right time for a debut album release?
Roy DaVis: Well, it all begun when Stathis and I met at a local bar in the company of other friends and talked about music and realized that we share the same music tastes. I was in a Melodic Rock band called Bad Medicine at the time… Stathis was working behind the decks as a DJ when we decided to make our first EP. Unfortunately no luck came with it. Since 2012 we had some thorough discussions about making music together again. We had this in mind for quite some time but we couldn't work out the timing. We did record some songs together without having set a specific time frame for a release. Still, when the opportunity came up, we started the recordings on the spot. After a 6 month period of professional recordings we had a full record of 10 AOR Melodic Rock songs in our hands.
When all was ready, music-wise, our manager Chris Siloma did the label shopping and AOR Heaven picked up the album titled "Shade Of Love, talk about a unique opportunity and a dream-come- true for us. We were also very lucky as the release date of Shades of Love coincided with the release of the new album by the great melodic rocker Newman! This allows us to do some joint promotion through simultaneous release parties and gigs.
Hardrock Haven: AOR duos are very characteristic in the genre of adult oriented rock, most notable being perhaps Houston, The Magnificent, Los Angeles and State Cows amongst others. What would you say are the advantages and disadvantages of a duo formation as opposed to a full line-up.
Roy DaVis: The hardest part in a band/project situation is simply finding people who listen to the same kind of music. So we started just the two of us instead of auditioning other musicians and wasting time on that… Clearly having just two guys recording all instruments on the album is a daunting task for sure but we had so much fun doing it that we didn't actually realize how long it took!
On the other hand you can't have live shows with just two guys on stage but this shouldn't be a problem in the long run! A complete line up would have definitely affected the shape of each song featured here whereas now we are able to hear on record exactly what we heard in our heads. But really, I can't say which of the above should be considered as advantages or disadvantages!
Hardrock Haven: Before signing to AOR Heaven, you were known in the melodic rock underground as Hayate. Why did you change the band name to Farraday and is there a meaning behind each name?
Roy DaVis: Stathis and I, as I mentioned previously, recorded some songs together for a demo. This demo featured mainly of Stathis' ideas …and the songwriting and production were set to accommodate his vision. We didn't really changed the name to Farraday since Farraday is an entirely different thing…the connecting point of the two groups is that Hayate recorded one of my songs, "Can't Wait On Love" that is on Farraday's album.
Hayate is a much heavier AOR project and we hope that someday we will come up with a full record 'cause there are still some brilliant songs in there! I'm not really answering the question here but I should say that there will be some surprises in store.
Hardrock Haven: AOR Heaven of course released your debut album Shade of Love, what is your relationship like with the label and what kind of contract are you under? is it a multi-album deal or a one-album release?
Roy DaVis: We are very happy to be members of AOR Heaven family! Our relationship is just about perfect! As for the contract…it's a one-album deal but we would love to have a second Farraday release under AOR Heaven…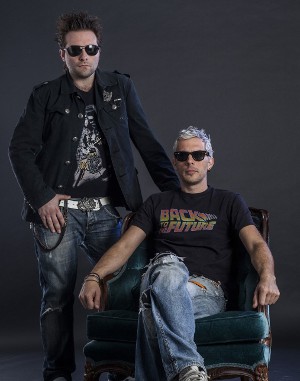 Hardrock Haven: Early next year you will be playing a co-headlining gig with British veteran melodic rockers Newman in Athens Greece. Will that be your stage debut and is there any chance of any international live shows?
Roy DaVis: We are so proud about this double event! Yeah! This will be our debut on stage! Aside of that, we are ready to play anywhere in the world we are asked.
Hardrock Haven: Should we expect a promo video from Shade of Love anytime soon and do you see a second Farraday album on the Horizon?
Roy DaVis: Hmm! I can see you are well informed! (laughs) Yeah! We have a plan of shooting a video possibly at the end of this year or early 2014! Hopefully we'll be able to release a second one but it's too early to say!
Hardrock Haven: Just to geek around for a minute, wouldn't it be cool to have at some point an all star Greek melodic rock project featuring-let's say-members of Wild Rose, Farraday, Danger Angel and Redrum? since most of these acts share common labels and management.
Roy DaVis: Wow! That would be great! If only there was something like that under way! In any case, I'm in! (laughs) That would be the Greek AOR Forces all together!
Hardrock Haven: As a melodic rock fan, do you find that often times classic rockers and metal-heads tend to be more defensive towards AOR as a style and sound than say most other audiences? What are your thoughts on the topic?
Roy DaVis: AOR is so under-regarded by most rock and metal listeners! That's true! In all likelihood they haven't found the artistic paradise that this genre hides behind it! Each and every one of us enjoys or has enjoyed at some point AOR songs often times not realizing that these tunes are under a genre of their own, the AOR genre! There are so many occasions where I find myself with friends and the radio plays a song and people don't know this is actually AOR!! As for those who really don't like AOR… that's OK! We shouldn't be so judgmental of the musical tastes of others.
Hardrock Haven: We would like to thank you for this interview, is there anything we left out that you would want the fans to know?
Roy DaVis: Thank you so much! We are really proud of our debut album, its well worth picking up a copy! Love and peace to all our listeners and fans around the world!