by Joe Mis
– Senior Columnist —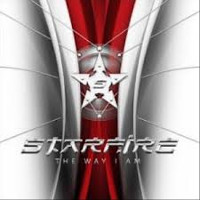 The Way I Am is the third album release from the LA-based alternative/progressive rock act Starfire. Founded and fronted by vocalist, guitarist, keyboardist and songwriter Dairenn Lombard, Starfire's mission is to bring large-scale production and theatrical techniques into the modern rock realm. Blending and modernizing influences of Rush, Van Halen, Malmsteen, and Paul Gilbert, Lombard has given his music a fresh and crisp sound.
Lombard is a very good guitar and keyboard player – and an excellent songwriter, but unfortunately his voice is his weak spot. While always clear and understandable, his range is limited and he occasionally oversteps it – particularly on the low end. The quality of his vocals is never in question, but his constrained range does not allow for much flexibility. Fortunately, the band's efforts are focused on the musical performance rather than the vocals so this limitation is easy to overlook. Lombard has built a truly exceptional group of musicians to back him up (most are graduates of the Berklee College of Music). Greg Pajer is a top notch guitarist, Andrew James lays down the intricate bass, Blake Paulson keeps time brilliantly on the drums, and Neara Russell's keyboards are simply outstanding.
Epic piano and synths open "Circle Of Misery," and they are followed by a very simple and effective guitar line and superb bass. This low key rocker sets the musical bar high, and for the most part the balance of the album successfully meets or exceeds it. "Temptation" is all about the rhythm line – the musicians are amazingly tight and cooperative throughout, particularly bass and drums. This track also features very solid guitars and a great but short solo. The raunchy "Rock Your World" is an old school blues rocker with a very powerful bass and smoky, funky groove – but a very modern sounding guitar solo. "Catwalk" is a slow paced guitar-oriented rocker, but the lyrics on this one seem a bit forced and cheesy and the mix seems off – a low volume guitar solo all of a sudden is dominated by very loud keys. A wall of edgy guitars and pounding bass makes "Lip Service" memorable, and the harmony vocals call Crosby, Stills and Nash to mind. For some reason, the fade out of the song seems to take FOREVER.
"Did You Know?" is a pop rocker loaded with a bouncy rhythm line and upbeat keyboards – but Lombard's relatively flat range compromises what should be one of the stronger tracks on the album. A very precise and technical lead break offsets the vocal shortcomings, but then an unusually abrupt fadeout mars the ending. "The Angel" is a galloping mid-tempo pop rocker, heavily influenced by Styx or Journey. The rhythm guitars here are the strongest on the album, and the interplay between guitar, bass and drums is excellent. Big pointy guitar hooks and rubber-band bass drive "Pass Away," a nicely done track, but one with an outro that seems to drag on just a bit too long. "It's You" is a very good old school soft rock track melded with some progressive rock elements– one well suited to the band. Driving bass and numerous progressive elements make "The Way I Am" a very good track. The vocal harmonies of the chorus are very well-done, and the bass dominates the mix (maybe a bit too much) until the guitar solo.
Overall, Starfire's The Way I Am is a mixed bag. There are moments of absolute brilliance that are balanced by a number of head scratchers, and the less than perfect engineering and lack of any fast paced songs make the album seem to drag at times. The songwriting is generally very good, and the musicianship incredibly tight. The mix of old rock influences with modern elements keeps things moving along, but the album is a bit over-engineered and some of the old school warmth is bled away by the ultra-precise mix. Each member of the band is immensely talented, but as a whole the lack of a true standout song may make the listener wonder what would happen if they really decided to cut loose and turn it up to eleven. For now though, The Way I Am is an interesting and diverse release from a band just dripping with potential.
Genre: Alternative, Progressive Rock
Band:
Dairenn Lombard (vocals, guitar, keyboards)
Greg Pajer (guitar)
Andrew James (bass)
Blake Paulson (drums)
Neara Russell (keyboards)
Track Listing:
1. Circle Of Misery
2. Temptation
3. Rock Your World
4. Catwalk
5. Lip Service
6. Did You Know?
7. The Angel
8. Pass Away
9. It's You
10. The Way I Am
Label: Dynasty Records
Website: http://www.starfiremusic.com/
Hardrock Haven rating: 7/10