by Matt Karpe
– Columnist —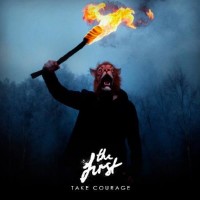 The First's second album Take Courage is sure to send this rock quintet into the big league.
Hailing from the small UK market town of Wisbech on the Norfolk/Cambridgeshire border, The First follow in the footsteps of Deaf Havana and Mallory Knox to prove furthermore that this picturesque part of England is quickly becoming a hotbed for great rock bands.
The leading faces of the nation's melodic rock scene include You Me At Six, Young Guns and the already mentioned Deaf Havana, but in truth- The First are simply better in what they do.
"Take It Back" opens proceedings with energetic drumming from Rob Knight, crunching guitar riffs from Tim Crane and Ben Knowles, a good bass line from Adam Masters and an excellent combination of clean vocals from Ben Salter and screaming from Crane. The chorus is catchy and instantly likeable, which is a trend The First set early and manage to continue throughout Take Courage.
"There Is No Place Like Home" is a good post-hardcore influenced ripper, with some howling gang vocals and another great chorus, as well as top quality guitar rhythms.
"Dare I Say I Ruined Everything" brings to mind American veterans Taking Back Sunday in the intro, with some stunning instrumental that is only bettered by one of the strongest choruses on the whole album. This would be a good song to check out for first time listeners.
"Shark Attack" is heavy and unforgiving and contains an enjoyable guitar solo from Knowles. It's the kind of song that you can imagine will go down well with a live crowd.
The show stealer comes in the form of "William", which has a rollicking intro of noise, yet played with swagger and intricacy. There is a guest appearance form female singer Elissa Francheschi whose delicate voice gives the song an extra dimension, and with more immense guitar work and customary chorus, you begin to wonder if The First are about to run out of steam.
Thankfully that doesn't happen as "Love Regret Forgive Forget" continues the ear drum assault, however it is to be the last time you really hear The First in full flow.
That's because "Tonight Tonight" takes a slower and softer approach with a piano and acoustic ballad, but even this is bloody brilliant!! Salter's vocals are captivating and lyrically it's a bit of a tearjerker. Halfway through, the guitars and drums return for one final jam to officially end an album of sheer quality. (There is a bonus track on some format's which is another pleasurable acoustic slow burner).
Take Courage is an album that could easily become one of the best British rock albums. It is consistent, resilient, diverse and brilliant. Quite how The First can make a better record in the future is going to be a huge task, but for now, bask in the glory and take courage in the fact that The First are the best of British.
Genre: Melodic Rock
Band:
Ben Salter- Vocals
Ben Knowles- Lead Guitar
Tim Crane- Guitar/Screams
Adam Masters- Bass
Rob Knight- Drums
Track Listing:
1. Take It Back
2. There's No Place Like Home
3. Dare I Say I Ruined Everything
4. Start Again
5. Monster
6. Take Courage
7. Shark Attack
8. William (feat. Elissa Francheschi)
9. Love Regret Forgive Forget
10. Tonight Tonight
11. Enough Is Never Enough (Bonus)
Record Label: Destroy Everything
Website: www.wearethefirst.co.uk
Hardrock Haven Rating: 9/10