Todd Kerns and Kurt Frohlich
by Deb Rao
– Senior Columnist —
What better way to spend Columbus Day weekend than at Vamp'd for the CD release party of The Underground Rebels with special opening guest Todd Kerns on Oct. 13? It is no wonder that Las Vegas is becoming the entertainment capital of the world with the great talent that is emerging from Sin City.
You may know Todd Kerns best as the bassist for Slash and lead singer of the Sin City Sinners. Tonight the charismatic front man took on a new role as acoustic performer. Earlier this year, Todd released his first solo album Borrowing Trouble. Tonight fans got to hear special songs from the release. Todd commenced the show with the very beautiful song "Indian Summer." The show was very fun and impromptu as the singer took requests from the audience. It is very difficult from going to performing in a band to performing solo. Todd made the transition flawlessly. He is has a special knack for storytelling and embraced the moment and owned it. Highlight of the set included "The Devil In Me," which has a very friendly radio vibe. It was refreshing to hear the singer in a different light showcasing his talent on an acoustic six string with melodic dynamic vocals. Proving that sometimes the quieter performance the audience goes Wow!
Next up The Underground Rebels hit the stage at 9:30 p.m. for their CD release party of American Nightmare. The event sparked many celebrities in the audience including Dirk Vermin of Bad Ink Television show. Dirk also performed on the CD with his song," Roach" and live tonight on that same song. The band hit the stage opening with "Rock & Rock." Singer Kurt Frohlich has a great pop voice. The band kind of reminded me of Jet meets Cheap Trick mixed with a touch of Ramones. Highlight of the set was "My Girl", a song written for Kurt's daughter.
After the performances, I had the opportunity to sit down with Slash bassist Todd Kerns and Underground Rebels front man Kurt Frohlich. We talked about the Vegas music scene and their current releases.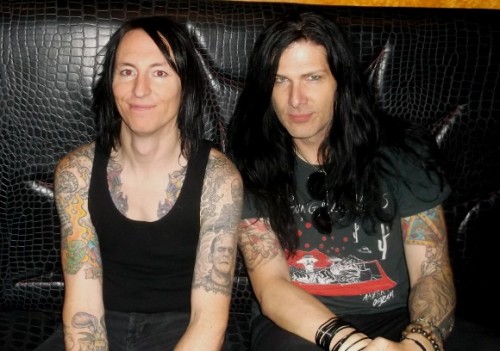 HRH: Kurt, welcome to Hardrock Haven. What inspired you to release your album American Nightmare on PledgeMusic.com?
Kurt: Actually, Todd inspired us to release the CD and get involved with Pledge Music.
Todd: The great thing about Pledge Music is that it made us have deadlines. When you are a musician you need deadlines or us the writing process can go on and on. It also made the fans excited about waiting for the release of the album.
HRH: Tell us about the special guests you have on American Nightmare.
Kurt: Todd sang vocals on "Rock & Roll and "Mars." Dirk Vermin did a guitar solo on his song "Roach." Cult drummer played drums on "She Makes It." Doc Ellis played slide guitar on "My Girl."
HRH: How has the music industry changed today regarding recording?
Todd: I also said I will continue to buy albums as long as they make them. I love the album concept because of the artwork. You get to open up the album cover and see what the artist is about. The industry has changed so much. It is like how do you get radio airplay these days for young artists? That is why Pledge Music made the recording process exciting again.
HRH: I know both of you hail from Vancouver. How has the Las Vegas Music industry changed since you moved here?
Kurt: I moved here in 1999. I am very fortunate to be a full time musician. All of the members in our band have other projects. Our drummer is in Blue Man Group. I told Todd to move here. He could get gigs here very easily.
HRH: I can hear some Ramones vibe in the band and also Cheap Trick.
Kurt: Actually, I played with Marky Ramone. I love Cheap Trick.
Todd: Your band has a real pop sound.
HRH: It is great to see the scene moving away from cover to original music.
Todd: Yes, there is a new original club downtown. Vamp'd is a great club for original bands.
HRH: Let's talk about Borrowing Trouble. What inspired you to release an acoustic album?
Todd: I have always wanted to do an acoustic album. I wanted to have something that would showcase I don't know if legacy is the right word but that to have my music on a CD that would last forever and live on. On a CD your music lasts forever. I wanted something that my family and friends would have forever. The CD encompasses my music. It shows this is who I am and what I do. I make music. I wanted to have something that was forever. A CD is forever.
HRH: What is the difference between performing solo than with a band? Is it harder?
Todd: Making the acoustic album was easy. Performing as a solo artist is not. I don't have my band mates to fall back on.
HRH: I would say legacy is the right word. You have made quite the impact in Vegas and fans abroad with your music. What's on tap?
Todd: I head to LA to start rehearsals for Slash on Tuesday.
HRH: Last night you performed with The Sin City Sinners again for the first time in many months.
Todd: That was fun. Everything fell back into place with no rehearsal. I haven't played with Doc in a while.
HRH: Anymore shows planned with you and the Sin City Sinners?
Todd: I am sure there are some in the works.
HRH: Thank you Todd and Kurt for taking time out to speak to Hardrock Haven. You can purchase their new CDs at http://www.toddkerns.com/ and www.facebook.com/theundergroundrebels.