Tuomas Holopainen of Nightwish
by Steve Patrick
– Columnist —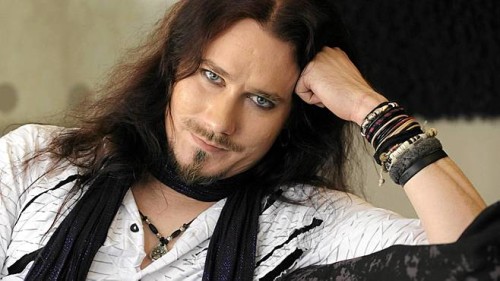 Finnish symphonic metal legends Nightwish have certainly had a tumultuous past year starting with dismissing their vocalist Anette Olzon in October of 2012 while on tour with Kamelot in North America. Despite the absence of Olzon, Nightwish soldiered on through the tour with an awkward karaoke-type show in Denver, CO featuring Kamelot back-up singers Elize Ryd (Amaranthe) and Alissa White-Gluz (The Agonist). Later the the band would enlist Dutch powerhouse vocalist Floor Jansen (ReVamp, ex-After Forever) to act as Nightwish's touring singer.
After a successful fill-in stint fronting the band, Jansen was recently announced this month as the new full-time Nightwish vocalist. Also joining Jansen in the full-time ranks of the band is multi-instrumentalist Troy Donockley who has been performing with Nightwish since 2007. Thankfully a documentarian, Ville Lipiäinen, was on hand to capture all of this madness in person and on film. The results of Lipiäinen's hard work are about to be released on November 29th as Nightwish releases their new DVD entitled "Showtime, Storytime".
"Showtime, Storytime" will include both Lipiäinen's in-depth documentary about last year's Imaginaerum tour (which includes fascinating fly-on-the-wall footage from the aforementioned Denver, CO show) as well as Nightwish's full live set from the 2013 Wacken Open Air festival. It will be released in various formats via Nuclear Blast.
Nightwish keyboardist and founder Tuomas Holopainen called in to Hardrock Haven's to speak about the release of "Showtime, Storytime", why the band chose make the announcement about Jansen and Donockley now, how the band had to remove all footage of Olzon from the documentary, and when Nightwish plans to start recording a new studio record:
::: Listen to the interview :::
For more information, please visit www.nightwish.com