Voodoo Highway | Showdown
by Matt Karpe
– Columnist —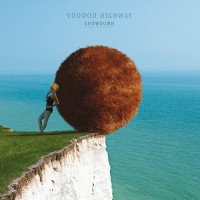 Italian five-piece Voodoo Highway add their name to an ever expanding list of classic hard rock artists, with their sophomore album Showdown.
The thing is, this genre has been played to death by Brits and Americans alike, yet with Voodoo Highway, they have the same tried and tested formula whilst adding that little something extra.
"This Is Rock 'n' Roll, Wankers!" is a great beginning; full of energetic drumming from Vincent Zairo, hard rocking riffs from Matteo Bizzarri and good diverse vocals from lead man Federico Di Marco. Filippo Cavallini adds the bass, although it isn't as prominent here as opposed to later tracks. It is however, the fifth and final piece of the puzzle that sets this band apart. Alessandro Duo' contributes organ and key duties, and most of the time pulls it off well within the texture of the song, and this is more than relevant on "This Is Rock 'n' Roll…"
"Fly To The Rising Sun" and "Midnight Hour" are '80s-style rock tunes that get straight to the point with some strong rough and ready howling from Di Marco and the organ work once again controls the tempo smoothly.
"Wastin' Miles" is the first big highlight on Showdown. Of slightly slower tempo, it is a great anthem of a track with dirty guitar rhythms and high quality drumming. The early choruses are good and after a good guitar solo, the finale is loud and ludicrously infectious.
"Mountain High" hits the highest peak though because it is the best song on the album. The guitars are heavy, the drumming simply thunderous and the keys even add to the whole atmosphere of the song. If there is such a thing, an organ solo exerts itself midway through which is surprisingly successful, before it makes way for another fantastic chorus.
"Cold White Love" is good sleaze rock, and "A Spark From The Sacred Fire" is another good high octane affair. There are also two bonus tracks in the form of "Till It Bleeds" (which should have made the official track listing) and old favourite "Broken Uncle's Inn" which contains some fascinating instrumentation.
Voodoo Highway could be the next big band to come out of Italy, because Showdown is an excellent album suitable for rock fans of all ages. It flows effortlessly and feels like the work of a band that has more albums in their discography than just two.
Voodoo Highway have taken the high road, and now they are fully motoring.
Genre: Hard Rock
Band:
Federico Di Marco- Vocals
Matteo Bizzarri- Guitars
Filippo Cavallini- Bass
Alessandro Duo'- Organ/Keys
Vincent Zairo- Drums
Track Listing:
1. This Is Rock 'n' Roll, Wankers!
2. Fly To The Rising Sun
3. Midnight Hour
4. Could You Love Me
5. Wastin' Miles
6. Church Of Clay
7. Mountain High
8. Cold White Love
9. A Spark From The Sacred Fire
10. Prince Of Moonlight
11. Till It Bleeds (Bonus)
12. Broken Uncle's Inn (Bonus)
Record Label: Dust On The Tracks Records
Website: www.facebook.com/WhoDoHighway
Hardrock Haven Rating: 7.8/10