by Nikiforos Skoumas
– Columnist —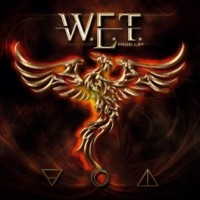 It has been a good three years since the release of the remarkable melodic rock debut of all-star band W.E.T. (the musical combination of Work of Art, Eclispe and Talisman). While the original concept brought together a member from each of the bands mentioned above (Robert Sall, Erik Martensson and Jeff Scott Soto respectively), the new album Rise Up features a full line up. The new, not so new, members are lead guitarist Magnus Henriksson and drummer Roban Back, both full-time members of Eclipse.
So clearly there seems to be a transition from a studio project to a recording and touring band, especially when taking into account that W.E.T. headlined Firefest 2011 and have more dates lined up. Moving to the specifics of their new second album, Rise Up opens on a classic-sounding melodic rocker Walk Away in the style of Journey or Jimi Jamison. Following is Learn to Live Again which bares the essence of a JSS solo track where Soto shares vocal duties with Erik. . From there you get the uplifting "Learn to Live Again," the ballad "Love Heals" and the somewhat predictable "What You Want." And it does not stop there, "Bad Boy," "Shot" and "On the Run" are just as credible melodic hard rock tunes as the ones mentioned above, while not quite as catchy.
Rise Up was released within months from the latest studio works of JSS and Eclipse which should be more than enough to fuel comparisons amongst the three. Rise Up perfectly holds its own in the barrage of first class melodic albums issued in 2013. One is definitely looking at an album that grows on the listener; at first there is the likely notion of it has all been said and done before, but after a few additional plays you will definitely come to appreciate the distinct personality of each track. Rise Up is another relevant addition to our collection.
Genre: Melodic Hard Rock, AOR
Line-up
Jeff Scott Soto – Vocals
Erik Mårtensson – Bass & Vocals
Robert Säll – Guitar & Keyboards
Magnus Henriksson – Lead Guitar
Robban Bäck – Drums
Track List:
1. Walk Away
2. Learn To Live Again
3. Rise Up
4. Love Heals
5. What You Want
6. The Moment
7. Bad Boy
8. On The Run
9. Broken Wings
10. Shot
11. Still Believe
12. Still Unbroken
Label: Frontiers Records
Hardrock Haven rating: 8/10