20 CONCERT HIGHLIGHTS OF 2013
Manfred Mann's Earth Band
The Jazz Café, London, UK
10 September 2013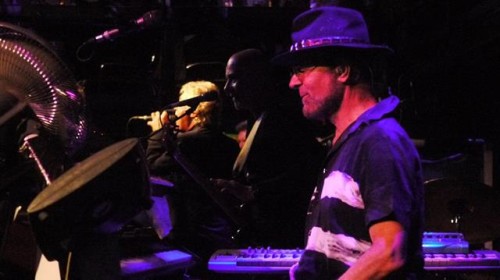 A head-spinning, potent dose of vintage prog that sends you down the sweetest memory lane a classic rock fan can wish for. Unlike his unsmiling contemporaries Yes and Genesis, Manfred Mann always had a knack for a sparkly, uplifting pop tune. So his prog vibrates with both intelligence and warmth – a unique quality for a genre which never cared much for pleasing the listener. Add to this Mann's stunning jazz piano chops and a gift for far-venturing impro, and here you have the most perfectly layered cake of a show. The most amazing thing though is how young Mann looks these days. You'd give him 38 tops – pretty incredible for a guy who's had his first hit back in 1964.
Johnny Winter
B.B.King Club, New York City
21 August 2013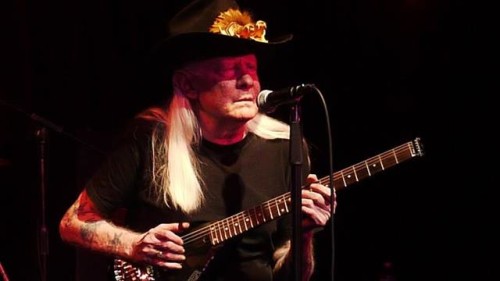 A set made up mostly of covers (from old blues standards to Chuck Berry to the Rolling Stones) runs smoothly through its paces without a single glitch. These days Winter's live shows are even-handed, on-the-ball affairs, and the crowd always receives them with great affection. While other musicians age, Winter has now entered that timeless stage where his dignified stage presence and simple grace serve as a benchmark for younger players who try to tap into the genre. But where he really takes you by surprise (no matter how many of his records you have or how many times you've seen him live before) is when he plays slide. Here the technique takes over, and the musician falls under its spell – a spine-tingling sight of a man on the service of the age-old tradition that demands he gives it his all, no matter his age, pedigree, or whatever else.
George Clinton and Parliament Funkadelic
Beekman Beer Garden Beach Club, New York City
22 August 2013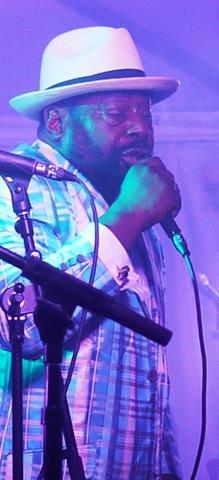 If there is anyone who can turn a crowd into a dancing, twirling, vibrating, wiggling bunch of happy people, it's George Clinton. What those who say that Funkadelic sound conventional forget, is that Clinton pretty much INVENTED this convention. He cooked it up, made it hugely popular, and it's not his fault that these days you can hear it emanating from each and every appliance at Macy's home electrics department. And Clinton sure knows how it has become, taking it easy and navigating those tunes as comfortably as he wears his sharp sheeny stage suit. The vibe in the crowd matched the vibe on stage – simultaneously relaxed and bouncy. You had a choice to either closely follow the music, which keeps all of its visceral instincts while offering plenty of fine musicianship and imagination. Or you could relax and simply enjoy the vibe. Cutting edge experimentation has now given way to coolly replaying those once innovative ideas. Guitar geeks who (among many others) flocked to Funkadelic shows back in the 70s would now find the band less experimental, but times change. The mood of the show was more about dancing, eating, enjoying the weather, and admiring the view of the sun setting over the three bridges: Williamsburg Bridge at left, Manhattan Bridge at center, Brooklyn Bridge at right. For many it was a family outing, a trip down the memory lane, and for younger folks – a chance to see a legend in the flesh.
Paul Bollenback
The Bar Next Door, Greenwich Village, New York City
18 August 2013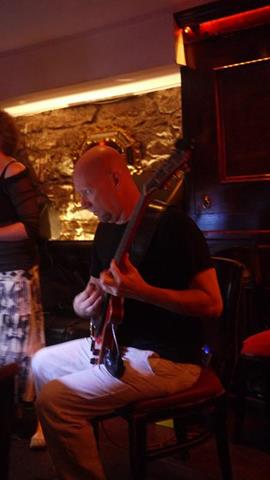 The Bar Next Door is one of the smallest, coolest jazz venues in New York – a cozy basement where you sit down at a table in a tiny room, make an order, and while munching your Gorgonzola pizza try to pay attention to the music. Something a New York jazz buff doesn't think twice about, but try explaining the concept of eating while listening to live music to an English metalhead. Although the umbilical connection between live music and heavy drinking on the British rock scene would perhaps confuse an average American jazz fan just as much. Still, when Paul Bollenback – one of the most accomplished New York jazz guitarists – sits two feet away from you playing a most inspired, intelligent solo while you eat, you – as a Brit and a metalhead – end up feeling a cognitive dissonance of epic proportions.
But this is the kind of music that gets you over the initial discomfort pretty damn quick. Bollenback's top-notch technique becomes immediately apparent, but it's the chops following the heart, not the other way around. "I try not to overplay," you hear a lot of rock virtuosos say. But when you listen to someone like Bollenback you forget that a note can be played without meaning. Non-obsessive poise lightens Bollenback's earnest improvisation and makes him an instantly accessible, but at the same time unpredictable player. Part of it could be the fact that he used to take lessons in classical guitar from Segovia's favourite student Michael Lorimer, a fellow New Yorker. Part of it – just the innate culture of jazz musicianship and Bollenback's own sensibilities. Singer Chris McNulty who performed with Bollenback tonight sounded like his perfect partner. The exquisite dynamics where she articulates the quietest note with translucent precision, and poetic wistfulness of her style makes you believe real magic can be so very tangible. As you swallow a piece of finely cooked pizza and hear the decaying notes of a beautifully knowing voice, for a moment you believe that the infinitely remote can merge with the mundane in an easy, natural way. It never can, you realize, as you leave the club after the show is over and head back home on a D line train to Brooklyn.

Andy Timmons and the Les Paul Trio
The Iridium, New York City
12 August 2013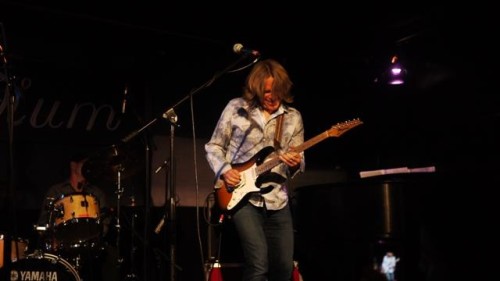 Another New York show where you are supposed to eat while following the music. And another guitarist who helps you get over the conflict of stomach and heart in no time. Timmons started his career in the 80s, and just like his fellow rocker Alex Skolnick pretty soon began expanding into all kinds of things, including jazz. Tonight he played with the Les Paul Trio – a resident band at New York's Iridium, which since Les Paul's death in 2009 invites various guitarists to join them on stage. Over the past 4 years they have been joined by guitar heroes ranging from Jeff Beck to Ted Nugent. And Timmons doesn't pale in comparisons with those bigwigs. He can be a showy, flashy guitarist which is a part of his temperament on par with his exuberant stage presence. But he also delves for meaning so deeply, and with such solid musical knowledge – as this evening on standout jazz number "Autumn Leaves" – that you instantly learn to appreciate this rare combination of ostentatious showmanship and profound self-search. Although for some artists profundity ends when the last note fades out, after which absurdity sets it. While introducing the band to the audience Timmons suddenly forgets to mention the drummer, who on the night is Anton Fig – a session player of great repute, noted for his work in David Letterman's house band, the CBS Orchestra. The audience – despite everyone having a full meal – is not distracted by the food, and immediately calls Timmons out on this gaff.