20 CONCERT HIGHLIGHTS OF 2013
Faster Pussycat
The Underworld Club, London, UK
3 July 2013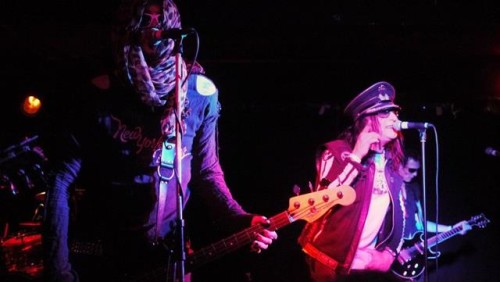 Here's a sort of band you can imagine doing a secret Nazi-themed magick ritual to obliterate anyone who calls them a bunch of never-beens lead by a has-been. Either that or what else would be the purpose of these assassin outfits, Third Reich hats, and the dude's leopard print burka — apart from serving as some sort of creepy warning? Never the best songwriters on the planet, Faster Pussycat at one time still put up great shows on the sheer power of their cocksure chops and stage presence. Plus looking good has always had its value on the glam metal scene. They don't call it glam for nothing. These days the band finds itself in a limbo: the tunes don't take off, the new recruits don't convince, and the look has been done earlier with bigger aplomb by someone with bigger balls. Specifically by Marilyn Manson, whom Downe tries to emulate these days – and who himself is neither a great looker, nor a songwriter, and not even a singer, but who became a cultural phenomenon on the sheer power of his guts. The lesson Manson teaches is to go all the way through. Half-hearted attempts at emulating someone else's grotesque look while playing your own old tunes don't get you any further than a half-empty club.
ZZ Top
Hammersmith Apollo, London, UK
24 June 2013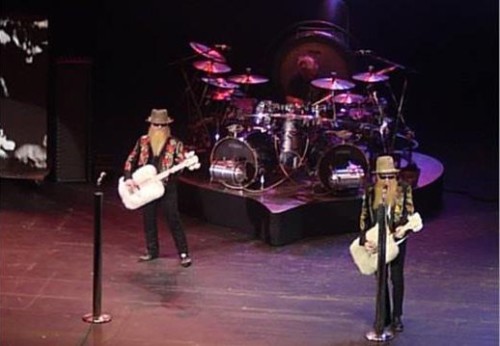 Yes, we all know it's all commerce and old ideas rehashed on the new album to legitimatize a fresh tour, but boy does the band sound awesome live! Punters pay 75 bucks for a ticket not to hear "Heartache in Blue" off the new CD, but "Legs" and "Sharp Dressed Man", and that's what they get. And every single person in the crowd looks so grateful for a chance to hear those gems live, the euphoria hangs thick in the air, even at those rare moments when no one is clapping or yelling. A show played with class, humour, and preceded by the great Ben Miller Band (who despite their emphasized homeliness draws from the same well as the headliners) – what else can you wish for? For just 75 bucks?
Joe Satriani
Shepherds Bush Empire, London, UK
17 June 2013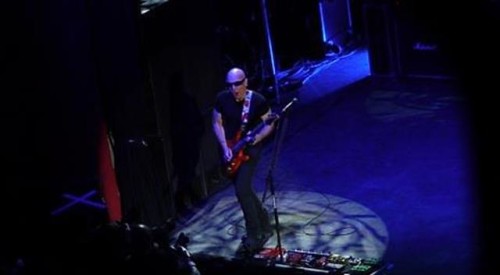 What will happen when guys like Satch no longer play? One thing is certain – we'll be left with much, much lower performance standards in rock. For sure, guys like Herman Li and Ben Wells could probably shred their way out of a buried coffin, but when it comes to sheer musicality, nuance, and gripping articulation, rock music knows no match to players like Satch and Vai. And I'm not even talking about Satch as a composer here. The new album may not match Surfing with the Alien or Crystal Planet in terms of writing, but seeing Satch live lays at your feet such treasures in terms of technique and musical sensibility, it becomes a must to anyone even remotely interested in the guitar, jazz and classical music fans included.
Megadeth
Brixton Academy, London, UK
6 June 2013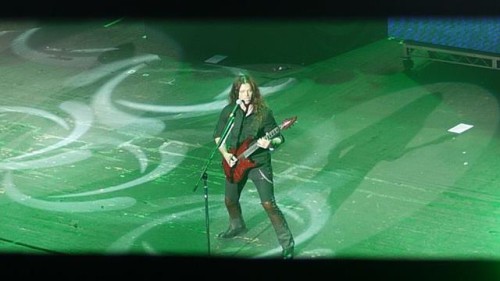 Go see Chris Broderick live and become instantly impressed by the frightfully accomplished automaton who seems to be able to play virtually anything. Is he an alien in disguise or a trial version of a cyborg secretly developed at some Matrix-style lab? In truth, I think the alien mantle rightfully belongs to Satch, as his gift is just unfathomable. And I lean toward the robot theory when it comes to Broderick. His machine-like body language and the faces he makes serve as further evidence – the big, cartoonish smiles to punctuate the proceedings, the bionic way he angles his head toward the cameras, the action-figure perfect poses. This robotic efficiency practically saves the otherwise lackluster show. While Mustaine sounds tired and burned out, Broderick keeps going like clockwork. Sometimes the saving grace for an aging metal god comes in the form of a young recruit with impeccable work ethic such as Broderick's. He evidently doesn't let emotional dispositions get through to him and treats his job as a job. As we know, when people start taking things too much to heart, all sorts of bitterness can ensue, just ask Poland or Friedman. And right now Broderick seems like a perfect recruit and Mustaine – a lucky boss.
Skid Row
Islington Academy, London, UK
13 April 2013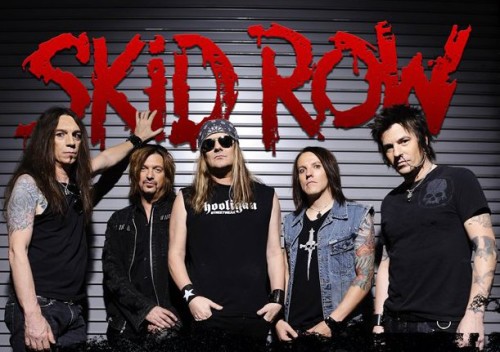 Where did it all go wrong for this once-brilliant band? When did Dave Sabo – with his tremendous gift – give up on progressing as a guitarist? When did the band start drawing ideas from what they see on TV instead of digging deeper and wider? Contrary to the common view, Sebastian Bach's departure had nothing to do with this band's downfall, but complacency and unwillingness to learn new things did. A series of new EP releases now coming out after a 7-year break explain Skid Row returning to the UK. Before this the band played in London 6 years ago. And that 2007 show stays in memory as such a brilliant, high-spirited event that this time around the 700-capacity Islington Academy sold out in no time. London's been missing Skid Row, and didn't expect such an underwhelming performance. But downgrading to a part-time band, leaving long gaps between albums, living in different cities, and generally not aspiring to much apart from continuing to self-release occasional new material, does take its toll even on such fab players as Sabo and Hill. Compared to their last London show, the band sounds limper, crowd-pleasing oldies "18 and Life" struggle to draw you in, and teenagers are nowhere in sight – it's a nostalgia act for the 80s generation, a shadow of its former self.