Aleks Sever | Danger Girl
by Alissa Ordabai
– Senior Columnist —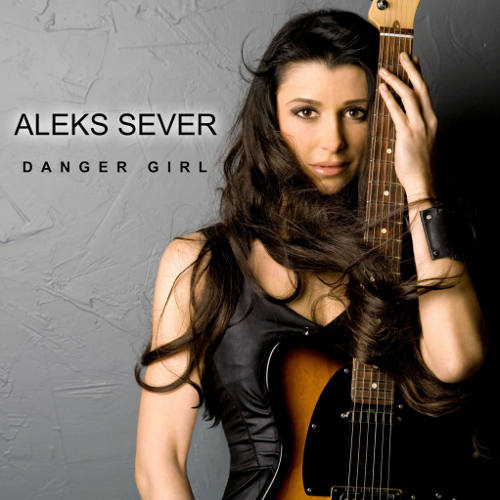 The more you have to say, the less notes you play. Aleks Sever proves this adage with knowing elegance on her debut instrumental album released last September. Each phrase she plays is poised at a high-strung distance from the next, and the result is tension – deliberately edgy and volatile. Add to this the snappy bite of Sever's clean-sounding tone, and you'll never know the guitarist is a woman before you see the album cover.
This simple, muscular approach to fusion unblocks the power of the genre which these days finds itself in dire need of a shake-up. Sever delivers that and more, spicing her mixture of rock and jazz with tangy doses of blues, reggae, and even house music. Standout "Nightclub Art" contrasts the guitar's punchy tone with the song-like melody, painting such an expansive picture, you become amazed how so few notes can transport you so far.
Intense and sharply elegant on the more strident tracks, Sever shows a deeper side of her character when time comes for a ballad. On country-inspired "Stars" she images picturesque dreamscapes so vividly, the track feels like a trip to the cinema. But then again, Sever is not only a guitar whiz but also an accomplished painter who started winning art competitions as early as 18.
Stylish comping provided by sax, trumpet, trombone, and keys cushions Sever's leads with understated chic. No wonder – drummer Oscar Seaton played with Lionel Richie, and keyboardist Deron Johnson — with Miles.
But with such transparent production even the softest, demurest things leave an imprint on the vibe of the record. A distinct player, Sever goes against today's conventions and arrives at edged clarity both in composition and production. She also refuses to compete in the chops rat race – despite being an extremely accomplished player. The result is a new voice and an instantly recognizable sound signature in the world of instrumental guitar.
Genre: Fusion, Funk, Soul, Instrumental Guitar
Personnel:
Alex Sever – guitar
Oscar Seaton – drums
Melvin Lee Davis – bass
Deron Johnson – keys
Jeff Young – organ
Mitchel Forman – organ
Brandon Fields – sax
Walt Fowler – trumpet
Nick Lane – trombone
Track Listing:
1. Showtime
2. Nightclub Art
3. Joker
4. Wild Love
5. Backstage
6. First Day
7. Danger Girl
8. City Rain
9. Silhouette
10. Stars
Label: Self-released
Online: www.alekssever.com
Hardrock Haven rating: 7/10