Andrzej Citowicz | Not So Silent Night
by Alexandra Mrozowska
– Columnist —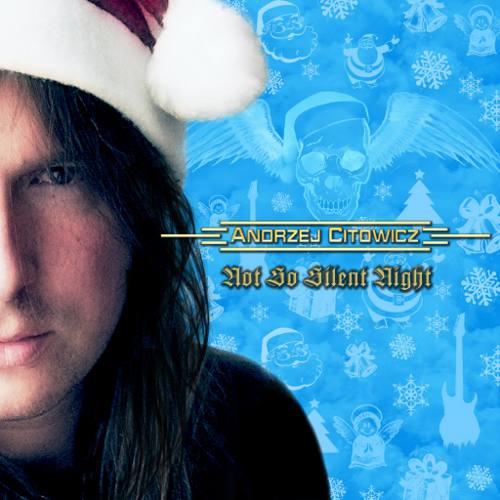 Andrzej Citowicz, the Polish guitarist Hardrock Haven readers should already be quite familiar with, is striking back again – this time, with a bit of Christmas spirit. A smart move, it seems – with holiday season soon to come, even the most orthodox hard rock fans will finally give up listening to all the things they've been up to all year long and deal rather with the immortal "Last Christmas" played over and over again on the radio in each and every shopping mall. However, for such a listener who'd rather forgot about reindeer, an overweight man from the North Pole who's in charge of them and the upcoming Christmas shopping mania for a while, there are more traditional Christmas-themed record as well. "Not So Silent Night" by Andrzej Citowicz is one of them – an interesting journey throughout the international and Polish classic carols on guitar, plus two well-crafted instrumentals. The record is an updated and enriched edition of Citowicz's last year EP Christmas Kisses released via Down Boys Records, some of the readers may be already familiar with.
The record's opener is "Not So Silent Night," a guitar version of what probably is the most popular (and also, the most recognizable all around the globe) Christmas carol ever. It's definitely not the first, neither the heaviest rock version of "Silent Night" ever recorded – yet, instead of too drastic shift from traditional version, the instantly recognizable melody is preserved here. The second track follows the same scheme, being an adaptation of another traditional carol, this time – a Polish one (whereas the carol itself is not really well-known worldwide, the curious fact is that "Wsrod nocnej ciszy" exists in its English version, as it was translated from Polish into English as "Amid the Silence" in 1922). Citowicz comes back to the internationally recognizable Christmas classic with "Jingle Bells" and reaches back to his Polish roots with the fourth song, another Polish carol entitled "Gdy Sie Chrystus Rodzi" (which could be translated as "When Christ is Born"). As for the common denominator for all these, they are very well-performed and very close to the tradition, the status quo which leaves no space for a possible improvisation which surely could have added flavor to these straight forward arrangements. Therefore, what definitely remains the highlight of the album are the last two tracks, which are Citowicz's own material. "Christmas Kisses" and "Winter's Breath" are two beautifully arranged instrumental ballads; the melancholic guitar tone sounds somewhat similar of the classic ballads of Lillian Axe, another inspiration that contributes to Citowicz's own "voice" and style of playing.
In short, as it is common with holiday season recordings, this Christmas-themed EP re-released again by the ambitious Polish guitarist is rather an invitation to further explorations of Citowicz's quickly expanding discography (just to remind the readers, his first full studio album Ace of Hearts was released this year) than the showcase of his abilities as a musician. No doubt it is a good record in its category – proving Citowicz's classy and slightly conservative approach towards music and his desire to stay true to his classic hard rock roots rather than run the risk of music experiments. It is can also contribute to awakening the Christmas spirit a little bit earlier this year or, maybe, introduce the foreign listeners to the vast variety of Polish traditional carols…? Anyway, among countless Christmas-themed albums released each and every year, "Not So Silent Night" is definitely worth recommending and every rock guitar aficionado can think of including this in their letter to Santa Claus this December.
Genre: Instrumental Rock
Band:
Andrzej Citowicz Official Site: Guitars
Dirk Arnicke: Bass, Drums, Keys
Patryk Szymański: Bass
Produced by Dirk Arnicke official / Ancient Dreamland productions
Track Listing:
1. Not So Silent Night
2. Wsrod Nocnej Ciszy
3. Jingle Balls
4. Gdy Sie Chrystus Rodzi
5. Christmas Kisses
6. Winter's Breath
7. Wsrod Nocnej Ciszy (reprise)
Online: https://www.facebook.com/andrzejcitowicz
Hardrock Haven rating: 8/10