by Deb Rao
– Senior Columnist —
Angelica discusses he new album Thrive to released on Frontiers Records
Sweden rock singer Angelica is gearing up for her release Thrive via Frontiers Records on December 3rd. Angelica has a powerhouse vocal style that will blow you away. Angelica demonstrates her wide vocal range on Thrive. It is great to see so many women in rock emerging on the rock scene. In this exclusive interview for Hardrock Haven, Angelica discusses the making of Thrive.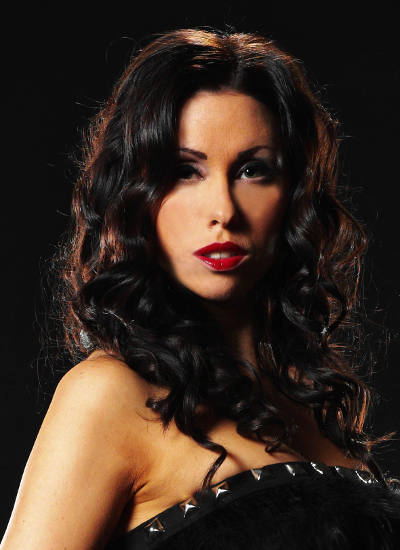 HRH: Angelica, welcome to Hardrock Haven. Let's begin by discussing your new CD Thrive that will be released via Frontiers in North America on December 3rd. Tell us about the writing process.
Angelica: It's always been a dream of mine to make an album like this. I grew up with this type of music and there's a special spirit in it that I love. When Mr. Perugino of Frontiers Records approached me about this opportunity about two years ago I never hesitated for a second. We stared looking for songs and songwriters that fit our vision of Thrive and I also dug up a few of my own songs that I'd written a few years back. I got to work with some amazing songwriters and musicians, Harry Hess (Harem Scarem), Magnus Karlsson (Primal Fear), Jesper Stromblad (ex. In Flames, The Resistance), Matt Guillory (James LaBrie) to name a few and I am so happy with the outcome.
HRH: The CD has a huge arena sound. The ballads are very beautiful and emotional. It seems like they were written truly from the heart.
Angelica: Yes, I try to make my every performance, live or composing, as genuine and true as I can. I always start from the core that is me and then I bring in other influences where needed.
HRH: What do you think makes a good song? Your songs really relate to the audience. Lyrics play a huge role on this album plus the outstanding vocals really add to the package.
Angelica: I think it's very individual for each listener what makes a good song but in my opinion first of all you need to have good melodies and harmonies, maybe a strong hook. And then you need to have lyrics that are either really interesting or easy to relate to. When I listen to music I instantly listen to the singer and the message he or she is sending via their voice. But in the end it's the whole package; feeling, quality and performance.
HRH: I like how you decided to showcase your softer side. Some girl's think just because they are in a rock band they have to scream to get the audience to listen. But you prove them wrong!
Angelica: Thank you! Well I've recorded an album that feels right to me and I've never been much for screaming or growling. I want to keep my femininity but I'm not afraid to push my boundaries or record heavier material. I love playing with my voice but I'd rather get attention for the quality of my singing than how hard or rough I could sound. I leave that to the guys.
HRH: Tell us about the special guest guitarists on the album.
Angelica: Gladly! I was happy to have some top-notch guitar play on this album. As main guitarist I have my friend Per Berqvist from Swedish band Smash into Pieces. If you haven't already you should check them out! Then I got the honour to have some amazing guitar solos from Magnus Karlsson (Primal Fear), Jesper Stromblad (ex. In Flames, The Resistance) and Mats Lindfors (Talisman, John Norum). It's an exquisite line up on this album and I couldn't be happier!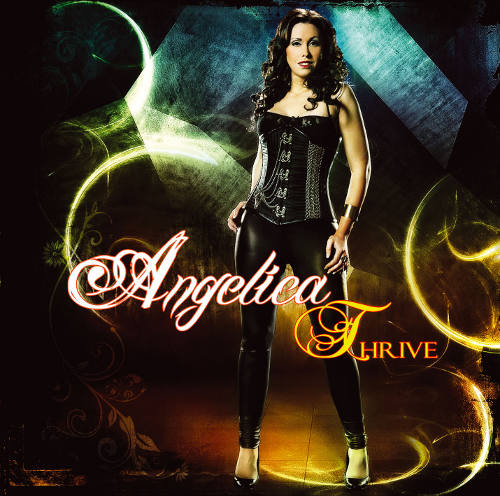 HRH: What was it like working with producer and keyboardist Daniel Flores?
Angelica: Daniel and I have a very close relationship and we work very well together. He is my musical mentor and partner in crime ;) He always makes sure I perform at the top of my game.
HRH: There seems to be a lot of great female singers emerging out of Sweden. How did you get started in the music business?
Angelica: I have always dreamed about being a professional singer growing up and I had a couple of bands in school and so but after high school I stared looking for the right producer to work with and write my own material. This was not an easy thing to do although it's said that Stockholm is one of the cities that have the most studios per citizen. I found that there's a lot of producer wannabes out there. But in 2007 a friend introduced me to Daniel and we hit it off right away. So far we have released three full albums together and written songs for artists in both Europe and Asia.
HRH: Have you ever performed at the Sweden Rock Festival?
Angelica: Yes I have, with The Murder of My Sweet in 2010. It was great and I would love to play there again!
HRH: Who are some of your favorite singers that influenced you?
Angelica: When I was younger I listened to Whitney Houston and was blown away by her voice. She has always been in the back of my head since then but I also try and find inspiration in other singers I come across. I love Lisa Dalbello for instance. I get inspired by the vocal abilities of others.
HRH: Any plans to tour the U.S.?
Angelica: Oh I would love to do that but at this moment I don't have any confirmed dates for a tour. Hopefully if enough people buy the album we can make that reality.
HRH: As a new artist on the rise, what do you hope to accomplish in the music business today?
Angelica: I am so happy to be able to call my self a professional working singer with a good start of a resume and I wish to continue on this journey and record more albums both as a solo artist and with my band and I dream of going on a world wide tour one day.
HRH: Thank you for taking time out to discuss your new album Thrive. Your voice is amazing. Is there anything else that you would like to say regarding the album?
Angelica: Thank you so much! I would just like to give a shout out for the actual CD as there will be a video clip included on the disc. And if you are a fan please hook me up on www.facebook.com/angelica.rylin.