Cage The Gods EP Teaser Trailer Now Online for FAVOURITE SIN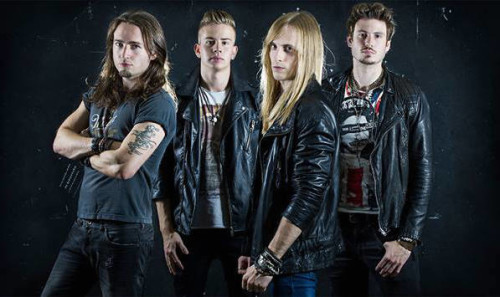 Irish vocalist Peter Comerford and Scottish guitarist Jam formed the band in the summer of 2012 to record and release material they had already begun writing. Before long, the pair crossed paths with 6'7" Welsh bassist Mitch Witham. Young English drummer Colin Jones is the most recent addition having replaced original drummer NJ who in true rock n roll fashion went on a booze fuelled week in Vegas with a 38 year old glamour model, got married by Elvis in "The Chapel Of Love" and hasn't been seen since…. Thankfully Jones was able to step up to the mark and solidify his place within the band after a charismatic debut performance supporting US-rockers Filter!
The band spent most of 2012 writing, producing, recording and mixing their debut, as yet untitled, album due for release in early 2014. Not content with just making a great record they then mastered it, designed the sleeve, manufactured a limited edition fan version and proceeded to set about procuring management and live agents without a second thought. Spin forward into 2013 and they had secured all the above and more with international management, major promoters and UK & US booking agents all in tow.
Their self released debut four-track EP "FAVOURITE SIN" will be released on November 24 in both the UK and USA and will support their opening slot on The Answer's UK/Irish tour (see below). The EP is backed with "From the Start", "Wake Up" and "Sacrifice (acoustic)". "We all have that one thing…that taboo…that guilty pleasure…the forbidden fruit that we know probably isn't good for us but is just too goddamn enticing to ignore! Well Favourite Sin is about leading the innocent down that path…showing them the hidden bliss within their darkest guilty secret!"
The band have already found support from Classic Rock magazine which profiled them in a full page article in the September issue "these British rockers could be huge"
Having recently supported the Radio One play listed Heavens Basement and Classic Rock best new band winners TRACER, Cage The Gods are set to play many more dates in 2013. Confirmed so far:
Oct 11th Belfast Limelight (supporting The Answer)
Oct 12th Dublin Whelans (supporting The Answer)
Oct 17th Manchester Academy 3 (opening for The Answer / Tracer)
Oct 18th Wolverhampton Wulfrun Hall (opening for The Answer / Tracer)
Oct 19th Leeds Cockpit (opening for The Answer / Tracer)
Oct 20th Sheffield Corporation (opening for The Answer / Tracer)
Oct 22nd Glasgow The Garage (opening for The Answer / Tracer)
Oct 23rd Newcastle O2 Academy (opening for The Answer / Tracer)
Oct 24th Nottingham Rescue Rooms (opening for The Answer / Tracer)
Oct 25th London Electric Ballroom (opening for The Answer / Tracer)
Oct 26th Bristol Thekla (opening for The Answer / Tracer)
Oct 27th Brighton Concorde 2 (opening for The Answer / Tracer)
Nov 30th Hard Rock Hell Pwllheli Wales
Dec 7th Great Yarmouth Planet Rockstock
Dec 12th Nottingham Rock City Headline Show
Dec 13th Sheffield Greystones Headline show
Dec 14th Manchester Deaf Institute Headline show
Teaser link for the Cage The Gods EP