Debra Devi | The Language of the Blues: from Alcorub to Zuzu
by Alissa Ordabai
– Senior Columnist —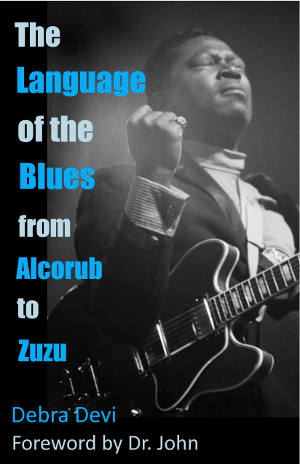 The book which became an instant classic when first published in 2006 now comes out in a new edition with a global distribution deal. Fans of Debra Devi's 176-page compilation of blues terms, catchphrases, and expressions include not only journalists and music lovers, but also musicians ranging from Bonnie Raitt to Buddy Guy who runs excerpts on his web site.
You can bet your CD collection that before this book most people (including performers) had a very faint idea — if at all — of where slang words such as "cool" or "cat" originally come from. Devi made a colossal effort of interviewing over 50 musicians and dedicating several years of research to rediscover the etymology of blues talk – how and why these words were first used, and how their meaning changed over time. Some of them got snatched by other genres such as jazz and hip hop, and some now sound as mainstream a TV commercial.
Each entry ends up opening a small but fascinating window not only into the history of music, but the history of America. Words like "jive" and "spoonful" will from now on have a deeper ring to them for most readers, and lyrical clichés such as "black cat bone" and "killing floor" will start brining to mind some vivid imagery. No more hearing Robert Plant scream those final words at the end of "The Lemon Song" with your mind painting an image of redwood parquet.
Apart from Devi's industriousness, painstaking drive for accuracy, and her love for the blues, you are also struck by the intricacy of the genre's roots.
A journalist and a musician, DeSalvo handles the topic with confident savvy of an insider making the subject appear in all of its complexity. She ends up telling a story, but also – among other things – shows how music can support and ennoble people facing most dire circumstances. The 2007 ASCAP Deems Taylor award for Outstanding Book on Music couldn't have gone to a better book.
Online: http://www.americanbluesscene.com/tag/the-language-of-the-blues/;
http://www.huffingtonpost.com/debra-devi/;
www.devi-rock.com
True Nature Books. Ebook published on Kindle March 2012 comes with a free download of Debra Devi's Get Free album."