Eden's Curse | Symphony of Sin
by Ron Higgins
– Columnist —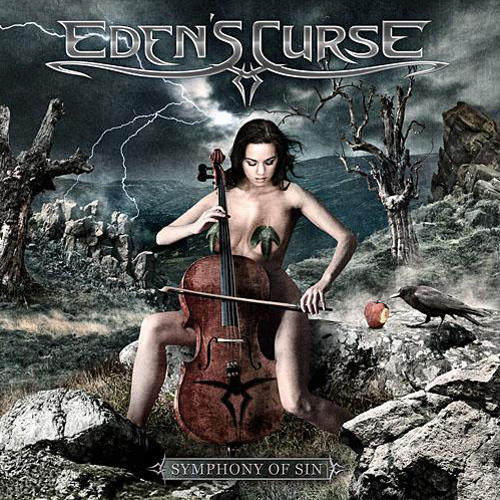 After taking a three year hiatus and losing founding member and band namesake Michael Eden, Eden's Curse are back with an impressive melodic metal masterpiece for their 4th full-length album.
For the uninitiated, Eden's Curse began as a studio project back in 2006 when American vocalist Michael Eden teamed up with Scottish bassist Paul Logue to form a global group thanks to the advantages of living in a digital age. English drummer Pete Newdeck along with guitarist Thorsten Koehne and keyboardist Ferdy Doernberg from Germany completed the lineup. A year later they released their self-titled debut and legions of fans quickly took notice, including the likes of rock royalty James LaBrie and Bruce Dickinson, among others. The following year they released their sophomore follow-up Second Coming which included their first foray into impressive guest appearances, including TNT's Tony Harnell and Pamela "Sister Mary" Moore of Operation: Mindcrime fame. In 2009 they finally moved the band out of the studio and onto the road, including their inaugural U.S. show in Chicago at MelodicrockFest 2. It also saw the replacement of their keyboardist with Italian Alessandro Del Vecchio, which was the first of several big lineup changes. Their 3rd album Trinity was released in 2011, featuring a duet with both LaBrie and Helloween's Andi Deris. Then the proverbial wheels fell off of the rock and roll bus when Eden quit the band and went on a legendary rant about other artists the likes of which would've made Kevin DuBrow cringe. Existential meltdown notwithstanding, the band charged ahead and found a new vocalist, Italian Marco Sandron in 2012. He only lasted for two short appearances before he and the band mutually parted ways. Ten months later he was finally replaced by their current singer, Serbian born vocalist Nikola Mijic, from the European metal bands Alogia and Dreyelands. Additionally, the band recruited yet another keyboardist, Steve Williams (of influential Power Quest and Dragonforce fame). That brings us to 2013 where Nikola brings his new melodic vocal style to the band as they release their latest record.
With the loss of the original vocalist, as well as his replacement, a new keyboard player and a three year absence, fans of Eden's Curse have been anxiously waiting to see what the next version of the band would sound like. Would it build on their last popular release? Would it retain classic elements from its past or would it be a radical departure as they chart their way into the future? Although the new release features 13 tracks, all of those questions were hinging on the opening, title track. At over seven minutes, it definitely falls into the vein of prog metal territory, especially with the symphonic opener consisting of a 46 piece orchestra. Visions of Stratovarius or Avantasia come quickly to mind but once the vocals kick in about a minute later it becomes clear that this is definitely a more melodic affair. Nicola's vocals are much smoother than Michael's with a more AOR sounding tone. He's more Joe Lynn Turner than Ronnie James Dio. The question is, does this new melodic vocal style work for Eden's Curse? Absolutely. The thunderous backbone of Logue's bass lines and Newdeck's thunderous beats mixed with Koehne's riffing fits in perfectly in the Eden's Curse playbook. As expected, the trademark harmonies and layered backing vocals are in full affect as well. After nearly eight minutes, Eden's Curse fans can now heave a sigh of nervous relief.
Now that it's been established that the opening track is a winner, what about the rest of the album? Well, the second track, "Break the Silence", is another exceptional track. It starts with some hard driving guitar right from the onset. It features a cool riff and then some of Steve's tasty keys kick in. This song is a little harder and Nicola sings with a rougher metallic delivery. Koehne also performs a nice rockin' guitar solo in the middle. This is one of the more rockin' tunes on offer and is sure to please those who like a little more metal in their music. It's definitely vintage Eden's Curse.
The next song, "Evil & Devine" is the first single and features a video shot at the famous church St. Andrews in the Square in Glasgow, Scotland. It's one of the more traditional sounding Curse songs on offer and is certain to be a fan favorite with its great hooks, impeccable harmonies and blistering guitar work.
Next up is another highlight, "Unbreakable". It has a driving rhythm but is a bit more mellow, wading into melodic AOR territory. Although it rocks at a slower pace it's still one of the better tracks and features one of the best guitar solos on the whole album. It certainly has commercial appeal and would be very radio friendly if it were 1989. Maybe if they added a rap breakdown midway through and filmed a naked girl riding on a big metal ball it could be in 2013 too.
The next three songs lose a little steam as the band continues down the mellow path but still features moments of brilliance with some crushing hard rock. "Fallen from Grace" is a classic power ballad that instantly evokes visions of Bon Jovi or Cinderella. "Losing my Faith" starts encouragingly enough but then slows way down to the tinkling sounds of ivory before kicking back up again. The next song, "Rock Bottom" is definitely not a cover of the classic KISS tune but still pretty cool. Once again, it starts out with some promising guitar work but then mellows out, featuring a cool little piano and guitar breakdown in the middle. Towards the end Koehne starts shredding again, bringing it back up to its hard rocking promise. This is one of those tracks that gets better and better each time you hear it.
Tracks eight through ten get interesting again with three more of the album's highlights. "Great Unknown" is a more upbeat song with Williams' keyboards weaving its way throughout the song. "Turn the Page" is another catchy little tune that switches tempo throughout. It's not the classic that Bob Seger's song of the same is but it's pretty darn good. "Sign of the Cross" features a pleasant rhythm and some amazing vocals too. Mijic really shines on this one.
Wrapping up the album are "Wings to Fly", "Devil in Disguise" and "Where is the Love?" "Wings to Fly" is another mid-tempo rocker with some more strong keyboard work and crunching guitar. Williams and Koehne really play well off of each other throughout the album. Williams is certainly a welcome addition to the band. This is another track that should be getting lots of air play on the radio. Truly fantastic. "Devil in Disguise" (again, not to be confused with the classic Elvis tune – these guys really need to come up with some more creative titles!) is a hard-driving rocker with pounding double-bass drumming and features Nikola singing in a rougher tone that's more reminiscent of Michael Eden's more metal sounding voice. It's a nice up-tempo song that reminds the listener that these guys really do know how to rock.
Finally, Eden's 4th album wraps up with another power ballad. It starts with some impressive acoustic guitar before slamming into high gear and then finding its ground with a slower, middle pace. The vocals are once again the highlight, this time finding Mijic in complete melodic rock territory with vocals that would sound at home on any Journey record.
Overall, this is a very good album and clearly makes a statement to the rock world that, despite the loss of Michael Eden, Eden's Curse plan to carry on and not only survive but thrive. It also features stellar production work from the always reliable Dennis Ward. The only complaint is that it seems like the band might be suffering from a bit of an identity crisis. It's as if they're not sure if they want to be a hard rocking metal band or a more melodic hard rock band. It's the same struggle you see in bands like Journey and Survivor where excellent guitarists like Neal Schon and Frankie Sullivan are always trying to get their licks in and rock out while maintaining the AOR edge with the smooth vocals of Perry and Jamison. The difference is, Journey and Survivor clearly ARE melodic rock bands whereas Eden's Curse has traditionally been more of a power metal or melodic metal band. Some people may be turned off by the less metal edge to this release but equally as many people will be inspired by the new melodic vocals. Either way, Eden's Curse have maintained their reputation for being an awesome hard rock band for the 21st century and everyone will be waiting with bated breath to see what they come up with next.
Genre: Melodic Heavy, Power Metal, Hard Rock
Band:
Thorsten Koehne – guitarist
Paul Logue – bassist
Nikola Mijic – vocalist
Pete Newdeck – drummer
Steve Williams – keyboardist
Track Listing:
1. Symphony of Sin
2. Break the Silence
3. Evil & Devine
4. Unbreakable
5. Fallen from Grace
6. Losing My Faith
7. Rock Bottom
8. Great Unknown
9. Turn the Page
10. Sign of the Cross
11. Wings to Fly
12. Devil in Disguise
13. Where is the Love?
Label: AFM Records
Website: www.EdensCurse.com
Hardrock Haven Rating: 8.5/10